Republicans Push Bill to Grant Asylum to Foreign Homeschooling Families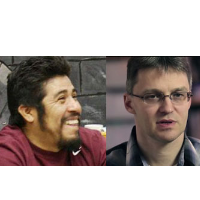 Constantino Morales (left) (photo: Iowa Citizens for Community Improvement) and Uwe Romeike (photo: HSLDA)
Some Congressional Republicans are sponsoring a bill that would give asylum to families coming from countries where they're not allowed to homeschool their children.
The bill (pdf), submitted by Rep. Jason Chaffetz of Utah and co-sponsored by 11 other Republican representatives, would grant asylum to up to 500 families a year who come to the United States because they can't homeschool their children in their home countries. Many of these families come from Germany and Sweden, where children must attend regular schools.
"Most courts have defined persecution as being something pretty significant," Cornell University professor of immigration law Stephen Yale-Loehr told McClatchy. "Generally, it's hard to win asylum and they don't want any decisions to make it seem easier to get asylum."
Republicans have traditionally agreed with that stance, particularly in cases of those from Latin America and Africa who seek refuge in the United States because they fear for their lives.
"The Republicans have put homeschooling as a priority for asylum in the United States ahead of murder, rape, child abuse," Rep. Luis Gutiérrez (D-Illinois) told McClatchy. Just last week, former Mexican police officer Constantino Morales, who fled to the United States to escape drug gangs, was killed after being deported to Mexico. He had requested asylum and unsuccessfully sought assistance from Republican Sen. Chuck Grassley of Iowa in his case.
The bill is in part a response to the case of the Romeike family of Germany, who came to the United States in 2008 and whose cause was taken up by the Home School Legal Defense Association (HSLDA). They were initially granted asylum by a judge, but it was overturned on appeal. The Department of Homeland Security has stayed their deportation for the time being, however.
"This has to be fixed," Chaffetz said. "The idea that people are persecuted by their governments for homeschooling is very real."
Since arriving in the United States, the Romeikes have had two more children who are U.S. citizens. Coincidentally, Chaffetz has previously introduced legislation that would prevent those children who are born in the United States of undocumented immigrants, such as the Romeikes, from automatically gaining citizenship.
-Steve Straehley
To Learn More:
Asylum for Homeschooling Enters Immigration Debate (by Franco Ordoñez, McClatchy)
Republicans Want to Grant Asylum to Home-Schoolers (by Esther Yu-Hsi Lee, ThinkProgress)
Romeike Family Can Stay in U.S. (HSLDA)
Mexican Ex-Cop Sought Asylum Claiming he could be Killed if He Was Deported…and He Was (by Noel Brinkerhoff, AllGov)