Report on Vulnerability of Electric Power Grid Finally Released after 5 Years
Sunday, November 18, 2012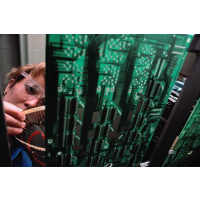 (photo: Office of Electricity Delivery and Energy Reliability)
The federal government has finally released a report on the vulnerability of the U.S. power grid to terrorist attacks and natural disasters, following five years of keeping it hidden away.
Produced by the National Academy of Sciences, the report was supposed to be released to the public in 2007. But the Department of Homeland Security decided the document should be classified. It then took five years for the academy to convince officials to review the classification decision and eventually reverse it.
The report found that the electric grid lacks resilience and is susceptible to disruption, either from natural disasters or terrorism, according to Steven Aftergood at Secrecy News. It deemed transmission lines and transformers to be the most vulnerable parts of the system, and it was more concerned about physical attacks than cyber attacks.
"We understand the need to safeguard security information that may need to remain classified," Ralph J. Cicerone, president of the National Academy of Sciences, and Charles M. Vest, president of the National Academy of Engineering, wrote in the report's foreword. "But openness is also required to accelerate the progress with current technology and implementation of research and development of new technology to better protect the nation from terrorism and other threats."
-Noel Brinkerhoff
To Learn More:
Academy Report on Electric Grid Withheld for Five Years (by Steven Aftergood, Secrecy News)
Terrorism and the Electric Power Delivery System (Board on Energy and Environmental Systems, National Academy of Sciences)
Government Watchdog Warns against Vulnerability of Electrical Grid (by Matt Bewig, AllGov)