Ranchers Blame National Guard Explosives Exercise for Wildfire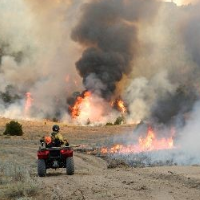 Sawmill Canyon Fire (photo: U.S. Forest Service)
The Colorado National Guard is being sued for $6.8 million following a live-fire training exercise that resulted in a large wildfire that destroyed portions of a private ranch.
Kevin and Susan Rothschild, owners of the 5,000-acre Bulls Bend Ranch in Wyoming, claim their property endured significant damage in the 2012 Sawmill Canyon Fire. The blaze, the plaintiffs say, was caused by the Colorado Army National Guard at Camp Guernsey using ammunition and explosives during dry conditions. The 22-square-mile fire consumed 1,000 acres of prime timberland and destroyed more than 1,000 acres of prime grazing land, according to the Rothschilds. The estimated monetary loss to their property was $6,773,703.
The National Guard was "negligent, irresponsible, reckless, and acted without regard to plaintiff's property by not having any fire extinguishing equipment or other controls in place to control and minimize the risk of fire from their activities," the lawsuit, which also names the Department of the Army, Colorado Gov. John Hickenlooper (D) and others, states.
The complaint says a similar blaze, the 2006 Tracer Fire, destroyed more than 13,000 acres of grazing land and timberland following the firing of live ammunition into dry grass by Army units.
"The only conclusion that can be reached is that the training procedures with the National Guard and the Department of the Army have been shoddy, neglectful, and poorly supervised," according to the complaint.
-Noel Brinkerhoff
To Learn More:
Ranchers Sue National Guard, Federal and State Governments For $6.8 Million Over Damages From Fires (by Tom Morton, K2 Radio)
National Guard Blamed for Wildfire (by Philip Janquart, Courthouse News Service)
ATF Training Exercise Gone Wrong Burns 150 Acres in Texas (by Noel Brinkerhoff and David Wallechinsky, AllGov)
Bad Golf Shot Starts Wildfire (by Noel Brinkerhoff and David Wallechinsky, AllGov)