Privacy Concerns over FBI Desire to Access Massive Ohio Facial-Recognition Database
Saturday, September 03, 2016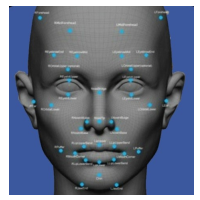 (graphic: Electronic Frontier Foundation)
By Marcie Shields, Courthouse News Service
(CN) — The American Civil Liberties Union urged Ohio to deny the FBI access to the state's law-enforcement database, voicing privacy concerns over facial-recognition technology.
Public records requests reportedly revealed email communications between the Ohio Bureau of Criminal Identification and the FBI regarding access to the state's police records.
The ACLU of Ohio said in a letter sent Monday to Ohio Attorney General Mike DeWine that it is concerned about the FBI's potential ability to access the state's facial-recognition data.
Gary Daniels, chief lobbyist for ACLU of Ohio, says in the letter that letting the FBI into the state database, which is called OHLEG, would give the federal government access to millions of photographs from sources that include drivers' licenses and criminal mug shots.
Daniels raises concerns about the FBI's allegedly questionable uses of face-recognition technology and its sometimes sloppy regard for individual privacy.
Both issues are described in detail in a report (pdf) that the U.S. Office of Government Accountability delivered to the Senate earlier this year.
The 82-page report explores the FBI's increasing use of face-recognition technology and reveals how the agency has fallen short in terms of privacy and accuracy.
The issues highlighted in the report include failure to adequately determine error rates, failure to test the reliability and accuracy of state databases, nonexistent and outdated privacy policies, lack of audits and transparency, and inadequate notice to the public regarding FBI use of facial-recognition technology.
In the ACLU's letter to DeWine, Daniels questioned "why there should be any consideration to give the FBI even more ability to access personal information—with minimum security and oversight—and with no opportunity for public input."
"The FBI's ongoing track record of widespread mass surveillance and blatant disregard for laws and policies meant to protect our privacy should, at the very minimum, give Ohio pause," Daniels wrote. "At the very least, this issue should be discussed around the state so all Ohioans have an opportunity to weigh in on this rapidly-moving expansion of data sharing."
According to the Government Accountability Office report, the FBI now has access to over 30 million images--most of which are of persons who have no criminal record--and has spent $55 million on face recognition technology since 2010.
It can tap into databases in Florida, Maryland, Maine, Michigan, New Mexico, Texas, and Arkansas and is currently working with eight additional states to obtain database access for face-recognition searches.
The report says that an additional 24 states are interested in connecting to the FBI's database.
A spokesman for the Ohio attorney general told the Cleveland Plain Dealer that the FBI has not submitted any formal request to get access to OHLEG, but has inquired about it.
"To describe it as negotiations would be a mischaracterization," the spokesman said. "There have been some discussions, but we don't have a formal ask."
To Learn More:
FBI's Facial Recognition Program Goes Operational (by Noel Brinkerhoff and Steve Straehley, AllGov)
FBI's Facial Recognition System Targeted an Innocent Person up to 1 out of 5 Times (by Noel Brinkerhoff, AllGov)
FBI Agrees to Share Facial Recognition Searches with All Police Departments (by Noel Brinkerhoff, AllGov)