Pope Francis Insults Native People by Making Junipero Serra a Saint
Tuesday, September 08, 2015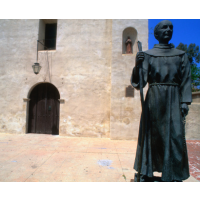 Statue of Junipero Serra at Mission San Gabriel--Getty Images
Native Americans are upset at Pope Francis for his decision to canonize 18th-century Franciscan missionary Junipero Serra.
Serra founded the mission system in California, which helped establish the Catholic Church long before California ever became a state.
But the missions treated local Native Americans cruelly while trying to convert them to Christianity. Many of them were whipped, imprisoned, and put in stocks. Serra's drive to "civilize" native peoples resulted in tens of thousands of deaths and the eradication of their culture, Gary Kamiya wrote at San Francisco Magazine.
That's why tribal leaders and others have voiced objections to Pope Francis' announcement in January to make Serra a saint. Protests have been staged all across California and more are expected throughout the year.
Francis has tried to soften the opposition by apologizing on behalf of the church for its crimes against indigenous peoples. In July, Francis "made a sweeping apology for the church's sins and 'crimes' against indigenous peoples during a visit to Bolivia" by "humbly" begging for "forgiveness in the presence of Bolivia's first-ever indigenous president and representatives of native groups from across South America, who wildly cheered the pope and said they accepted the apology," the Associated Press reported.
"Pope Francis has gone to South America and apologized," Norma Flores, a spokeswoman for Kizh Nation, told AP. "Yet he is going to canonize the individual responsible for the genocide of Native people."
Flores wants the pope to come to California and acknowledge the church's specific crimes. "We will never forgive or forget, but we need that in order for our wounds to heal," she added. The pope's travel plans don't include a visit to the state.
"Back in the 1930s, there were just two remaining speakers of our language, Chochenyo," Vincent Medina told San Francisco Magazine. "When I went to my grandfather and asked him about the language, he said, 'We don't know the language anymore'… There's a reason why it wasn't passed down to him from his mother. The decline started with Junípero Serra's policies. He used to gripe about how Indians wouldn't stop speaking their languages. He wanted them to speak Spanish."
Louise Miranda Ramirez, tribal chairwoman of the Ohlone Costanoan Esselen Nation, whose people occupied large parts of northern California at the time of Serra's arrival in 1769, told San Francisco Magazine she "felt betrayed" by the decision to canonize Serra.
"The missions that Serra founded put our ancestors through things that none of us want to remember. I think about the children being locked into the missions, the whippings—and it hurts. I hurt for our ancestors. I feel the pain. That pain hasn't gone away. And it needs to be corrected," Ramirez said.
-Noel Brinkerhoff, Danny Biederman
To Learn More:
Junípero Serra's Missions Destroyed Entire Native Cultures. And Now He's Going to Be a Saint. (by Gary Kamiya, San Francisco Magazine)
Pope's Apology Doesn't Change Opinions On Canonization (by Sudhin Thanawala, Associated Press)
Pope Taps Junipero Serra for Sainthood despite Pesky Complaints of Genocide (by Ken Broder, AllGov California)