Pentagon to Lift Ban on Transgender People in Military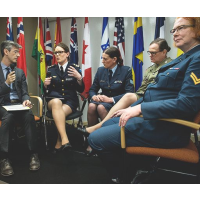 Transgender members of foreign military units at 2014 conference in Washington, D.C. (photo: Nicholas Kamn, AFP/Getty Images)
By Helene Cooper, New York Times
WASHINGTON — The Pentagon next month will announce the repeal of a policy banning transgender people from serving openly in the military, Defense Department officials said Friday, moving to end what has widely been seen as one of the last barriers to service.
Defense Secretary Ash Carter has called the regulation outdated and harmful to the military. A year ago, he directed officials from all the military branches to determine what changes would be needed to lift the ban, in a tacit recognition that thousands of transgender people were already in uniform.
Under the Pentagon's plan, first reported by USA Today, each branch will put in place new policies covering recruiting, housing and uniforms for transgender troops.
Military officials have been "making great progress, holding multiple meetings and working hard to come up with a policy that balances the needs of soldiers with mission readiness," said Eric Pahon, a Defense Department spokesman. "They're trying to come up with something that fits the needs of all of the different services."
Ashley Broadway-Mack, president of the American Military Partner Association, a support network for partners and spouses of LGBT troops and veterans, said in a statement that "our transgender service members and their families are breathing a huge sigh of relief."
A study commissioned by Carter and completed in March found that letting transgender members openly serve would cost little and would have no significant impact on unit readiness. The study, by the RAND Corp., estimated that 2,450 active-duty members of the military were transgender, and that every year about 65 service members would seek to make a gender transition.
The study said that if the Pentagon did not cover medical procedures like hormone therapy and surgery, service members would most likely not seek medical care and have higher rates of substance abuse and suicide.
The procedures would cost the Pentagon $2.9 million to $4.2 million a year, the report said. Each year, the military spends $6 billion of its $610 billion budget on medical costs for active-duty service members.
To Learn More:
8,800 Transgender Americans are on Active Duty in U.S. Military (by Noel Brinkerhoff, AllGov)