Pentagon Rebrands Guantánamo Hunger Strikes as "Long-Term Non-Religious Fasts"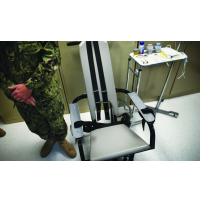 Restraining chair and force-feeding supplies used on Guantánamo hunger-strikers (photo: Charles Dharapak, AP)
After enduring last year's prolonged hunger strike by detainees at Guantánamo Bay, the U.S. military has decided it won't use the term any longer to describe those who refuse to eat food.
From now on hunger strikes will be referred to as "long-term non-religious fasts."
The change in terminology was discovered in a document ("Medical Management of Detainees With Weight Loss" (pdf) obtained by Vice News through the Freedom of Information Act. The previous guide, which it replaced, was titled "Medical Management of Detainees on Hunger Strike."
The new document—the purpose of which is to advise Guantánamo's Joint Medical Group (pdf) on how to treat prisoners engaging in hunger strikes—talks about the importance of "maintaining good order and discipline in the detention environment, and in protecting detainee health."
It goes on to say that if a detainee refrains from eating or drinking during so-called "fasting," personnel will implement "medical procedures necessary to preserve health and life," including those performed "without his consent," such as "involuntary feeding/fluid hydration."

It is also clear that the military never intended for the document to be released.
"The procedures outlined in this SOP [Standard Operating Procedure] will be protected from release to detainees and other personnel, including [Joint Task Force (JTF)] staff and visitors without a need to know," it states.
Retired Army Brigadier General Stephen Xenakis, who has consulted on Guantánamo prisoner cases, told Vice News that the new policy is intended to "disguise" hunger strikes.
"The document tries to give the impression that it's not about hunger strikes — that it's about weight loss," Xenakis said. "They took the emphasis off of hunger strikes."
He added that the new protocol demonstrates Guantánamo medical personnel are not complying with the World Medical Association's (WMA) guidelines on dealing with hunger-striking prisoners.
"There is nothing in there about respecting voluntary consent to refuse food," Xenakis said. "They [Guantánamo officials] are completely sidestepping WMA's advice."
That advice, based on WMA's 2006 revised declaration, states that hunger strikers "shall not be fed artificially."
Since last year the military has refrained from informing the media about hunger strikers at Guantánamo. "It's been a self-perpetuating story," JTF public affairs director Cmdr. John Filostrat said in a December interview. "It's [the strikers'] desire to draw attention to themselves, and so we're not going to help them do that."
There are currently about 30 detainees engaged in hunger strikes, according to information provided to Vice by attorney David Remes, who represents more than a dozen Guantánamo prisoners.
Last summer there were more than 100 detainees on hunger strike, of which 46 of them were force-fed via tubes by the military.
-Noel Brinkerhoff, Danny Biederman
To Learn More:
Guantanamo Now Calls Hunger Strikes "Long-Term Non-Religious Fasts" (by Jason Leopold, Vice News)
U.S. Now Calls Guantánamo Hunger Strike 'Long Term Non-Religious Fasting' (by Carol Rosenberg, Miami Herald)
Medical Management of Detainees with Weight Loss (Joint Medical Group Joint Task Force Guantanamo Bay, Cuba) (pdf)
Why are More Than Half of Guantánamo Prisoners now on Hunger Strike? (by Matt Bewig, AllGov)