Pentagon Officials Counter Republican Claims that Bird Species Protections Hamper U.S. Military Readiness
Wednesday, April 27, 2016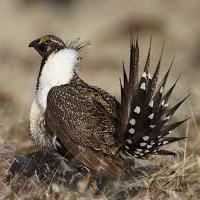 Sage Grouse (photo: Wikipedia)
By Richard Lardner, Associated Press
WASHINGTON (AP) — House Democrats on Tuesday released letters from Pentagon officials that they said should put an end to "silly speculation" generated by Republicans that protecting a bird known as the greater sage-grouse could hamstring the U.S. military.
They're hoping the new information persuades lawmakers to oppose a GOP provision in the annual defense policy bill that would block the Obama administration from protecting the sage-grouse under the Endangered Species Act for 10 years. The measure also would prevent implementation of land-use plans by the U.S. Forest Service and Bureau of Land Management to conserve the sage-grouse and its habitat.
The letters show those plans are working, don't interfere with military readiness, and help ensure the sage-grouse does not have to be listed under the act, said Democratic Reps. Adam Smith of Washington state, Raul Grijalva of Arizona and Niki Tsongas of Massachusetts.
The letters from the defense officials, Tsongas said, "demonstrate that arguments to halt this progress are not actually about military readiness but instead are an attempt to interfere with management of our nation's public lands and undermine the Endangered Species Act."
GOP lawmakers have argued that protection plans for the sage-grouse will restrict the availability of swaths of training grounds in Western states where there are large populations of the birds. About half of the sage-grouse's habitat is on federal lands, most of it managed by the Forest Service and Bureau of Land Management.
Claude Chafin, the spokesman for House Armed Services Committee Chairman Mac Thornberry, R-Texas, said the provision is essential to ensuring that critical military training isn't interrupted by "environmental extremism."
"While Obama officials at the Department of Defense are happy to push a political agenda, the fact remains that listing the sage-grouse under the Endangered Species Act comes at a high cost to military readiness," Chafin said. "Our forces are already struggling to meet their training requirements before they deploy. Listing the sage-grouse would clearly impact our training ranges and make an already bad situation worse."
But Grijalva said the "letters put to bed once and for all the silly speculation that a few birds could hamstring the greatest fighting force in the history of the world."
Smith is the top Democrat on the Armed Services Committee. Grijalva is the senior Democrat on the Natural Resources Committee. Tsongas is on the Armed Services Committee and the federal lands subcommittee.
To Learn More:
Lawsuit Seeks Tighter Oil Drilling Restrictions to Protect Endangered Sage Grouse (by Matthew Brown, Associated Press)
Backed by Big Oil, House Republicans Use Military Bill in Campaign to Keep Sage Grouse off Endangered List (by Noel Brinkerhoff, AllGov)