Patient Health Seen to Benefit from Access to Medical Records; Transparency Efforts Go Against Medical Industry Grain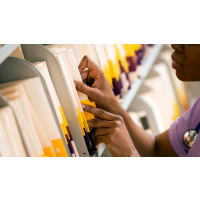 (photo: Getty Images)
The more a patient knows about their health, the better off they're likely to be. But gaining access to one's medical records and other information can be a struggle.
More than half of the members of an epilepsy community on the networking site PatientsLikeMe reported that sharing information with others helped them understand their seizures, according to The New York Times. Twenty-seven percent of the members said the information exchange helped them stick to taking their medications.
"Better-informed patients," Steve Lohr wrote, "are more likely to take better care of themselves, comply with prescription drug regimens and even detect early-warning signals of illness."
Some hospitals, like Brigham and Women's in Boston, are starting to see the wisdom of letting patients access their records online. Others are using a program known as OpenNotes, which has been shown to help patients.
More than two-thirds of the patients at medical groups in three states using OpenNotes "reported having a better understanding of their health and medical conditions, adopting healthier habits and taking their medications as prescribed more regularly," Lohr reported.
Not all hospitals and medical groups have embraced data sharing. "The problem is that you have institutions whose business models do not favor sharing information, either with other hospitals or patients," Ben Shneiderman, a professor at the University of Maryland and health technology expert, told the Times. Legal issues, proprietary records systems and plain old inertia are other reasons data isn't shared.
-Noel Brinkerhoff
To Learn More:
The Healing Power of Your Own Medical Records (by Steve Lohr, New York Times)
Pentagon and VA End Billion-Dollar Electronic Health Records Project (by Matt Bewig, AllGov)
Health Dept. Distributed $3.6 Billion to Doctors and Hospitals to Computerize Records without a Single Audit (by Noel Brinkerhoff, AllGov)
Florida Hospitals Ignore Voter-Approved Law Requiring Disclosure of "Adverse Incidents" (by David Wallechinsky and Noel Brinkerhoff, AllGov)