Overcoming U.S. Army Roadblock, Female World War II Pilot Finally Laid to Rest at Arlington
Thursday, September 08, 2016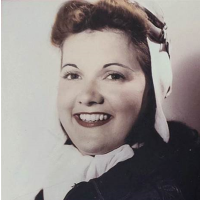 WWII pilot Elaine Harmon (photo: Erin Miller)
By Nicholas Fandos, New York Times
ARLINGTON, Va. — It took 1 1/2 years after her death in 2015 for the Army to formally recognize what Elaine D. Harmon had known most of her life: That the service of female pilots in World War II equaled that of the men who fought.
On Wednesday, in a quiet corner of Arlington National Cemetery, the Army made its recognition permanent, allowing Harmon's remains to be laid to rest at last with full military honors alongside her fellow veterans.
Harmon, who died in April 2015 at age 95, had been a member of the Women Airforce Service Pilots, or WASPs, a first-of-its-kind Army unit made up of women who flew planes and trained men to do the same during World War II.
That experience was so central to Harmon's life that after she died, her family found a letter written on cream-colored WASP stationery and left inside a fireproof file box, with a final wish.
"I would like to be buried in Arlington Cemetery," she wrote, adding later, "Even if there are no ashes left, I would like an empty urn placed at Arlington."
The problem, her family soon learned, was that the Army had never considered the women — who carried weapons, wore uniforms and had access to classified intelligence — to be the same as active-duty male troops. And even after legislation granted them veterans benefits in the 1970s, the Army said that it could not legally allow the WASPs to be buried at Arlington.
"They gave the ultimate sacrifice, and then when the war was over, they were told, 'Thank you for your service, the cockpits go back to the men now,'" Rep. Martha McSally, R-Ariz., said during a brief memorial after the interment.
McSally, who was the first female fighter pilot to fly in combat for the Air Force, learned of Harmon's story in the news earlier this year and immediately decided to champion the cause. With another female veteran, Sen. Joni Ernst, R-Iowa, she sponsored legislation clarifying the eligibility of the remains of Harmon and others like her to be interred at the cemetery.
"These women were getting a last slap in the face," McSally said. "I said, 'No way, man.'"
The measure was passed by the House and Senate with unanimous consent. President Barack Obama signed it into law in May.
On Wednesday, beneath a nearly cloudless sky, Harmon's remains, which had been sitting in a black box on a shelf in her daughter's bedroom closet for 1 1/2 years, finally came to rest in Arlington, in an understated columbarium.
A handful of women who flew alongside Harmon and many more who came after her traveled from across the country to bear witness and, in some cases, give testimonies to a path she had helped clear.
"Finally, we're over the last fight. We had to fight all the way along. I didn't think we'd have to fight to be buried," said Florence Reynolds, a member of the unit and friend of Harmon known as Shutsy. "I wanted to be here to make sure they didn't fuss it up."
In the end, they did not. Harmon, her remains present in a carved wooden box, was honored with a three-volley salute, a color guard and the playing of taps.
By the count of Katherine Landdeck, a historian at Texas Woman's University who is writing a history of the WASPs, fewer than 100 members of the unit are still alive. Only a handful have expressed interest in funerals at Arlington, and so, she added, Harmon's service was something of a stand-in for a whole unit that is largely unknown outside of family and the women who followed it into flight.
It was a fitting role for Harmon, who helped hold the group together even as they returned to civilian life in 1944. Harmon herself moved to Oakland, California, and worked as an air traffic controller while she waited for her husband to return from the Pacific. At the war's end, the young couple reunited in the growing Maryland suburbs of Washington to start a family.
Widowed in 1965, she raised four children by herself and eventually became a real estate appraiser. Like other WASPs, she maintained a vocal sense of patriotism, but the details of her service often went unstated.
"After the war, they all dispersed back home around the country and didn't necessarily talk to each other," Erin Miller, one of Harmon's granddaughters, who has studied the unit's history, said recently. "They were told not to publicize what they had done, and they went home and raised families."
In the 1970s, when the women began to reconnect to fight for military retirement benefits and recognition of their service, Harmon became their informal secretary. She tracked down other WASPs around the country and hosted them when they came to Washington to lobby.
In a third act of sorts, Harmon traveled the country promoting the unit's history. She visited the White House, Miller said, and met five presidents. In 2009, Obama signed a bill awarding the entire unit the Congressional Gold Medal. Harmon was on hand.
At the funeral, as planes flew overhead — first World War II-era warplanes flown by volunteers for the occasion, and then commercial flights taking off from nearby Reagan National Airport — Lt. Col. Christine Blice-Baum, a chaplain, read from Scripture and then from a poem, "Celestial Flight," written by one WASP, Elizabeth MacKethan Magid, in remembrance of another:
"She is not dead./You should have known/That she is only flying higher,/Higher than she's ever flown."
To Learn More:
Unanimous House Vote Clears Female WW2 Pilots' Remains for Burial at Arlington Cemetery (by Richard Lardner, Associated Press)