Oklahoma Lawmakers Move Bill Requiring Public High School Anti-Abortion Curriculum
Friday, February 19, 2016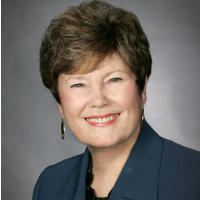 Rep. Ann Coody
By Courthouse News Service
OKLAHOMA CITY (CN) - A subcommittee in the Oklahoma Legislature this week approved a bill that would require anti-abortion curriculum in public high schools.
The Oklahoma House Appropriations and Budget Subcommittee on Education on Monday approved House Bill 2797, the "Humanity of the Unborn Child Act."
Written by Rep. Ann Coody, R-Lawton, the bill states: "the Legislature hereby affirms that it is the public policy of the State of Oklahoma to make a value judgment favoring childbirth over abortion."
Coody cited the U.S. Supreme Court's 1977 ruling in Maher v. Roe, which states that the U.S. Constitution imposes "no limitations on the authority of a state to make a value judgment favoring childbirth over abortion, and to implement that judgment by the allocation of public funds."
The bill seeks to develop and distribute educational materials for "the purpose of achieving an abortion-free society" and "consistently teach that abortion kills a living human being and is against public policy."
The bill is a top priority of Oklahomans for Life, Coody said.
The group's director, Tony Lauinger, told the subcommittee he did not know how the curriculum component would be implemented, nor did he state what the public service announcements would look or sound like, according to the Tulsa World newspaper.
Rep. Emily Virgin, D-Norman, and Rep. Jason Dunnington, D-Oklahoma City, asked Coody why the bill did not address sex education.
"If this is really to lower the number of abortions, why would sex education and contraception not be part of it?" Dunnington said.
"There is only one sure prevention of pregnancy, and that's not to cause it in the first place," Coody responded. "The killing of a human being is murder, plain and simple."
If approved, the bill will take effect on Nov. 1.
Coody said the bill will not be implemented this year due to budget constraints, but it would put the Legislature's position on abortion on the record.
Coody, who was first elected in 2004, will be termed out this year.