Oklahoma Governor Fallin Refuses to Remove 10 Commandments Monument despite State Supreme Court Ruling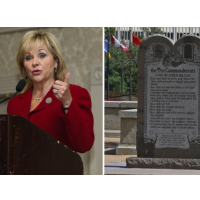 Governor Mary Fallin and the Ten Commandments monument (AP photos; Sue Ogrocki-R)
The Republican governor of Oklahoma is refusing to follow a state Supreme Court ruling that ordered the removal of a monument containing the Ten Commandments from the grounds of the capitol.
Governor Mary Fallin said on Tuesday the monument will remain in place while Attorney General Scott Pruitt appeals the 7-2 ruling.
The court found the monument, which was privately funded but sanctioned by the legislature, violated a provision of the Oklahoma constitution. Fallin contends the monument should remain while the legal case continues.
Supporters of the monument want to change the constitution to remove the provision the court said was being violated.
Article II, Section 5 of the constitution reads: "No public money or property shall ever be appropriated, applied, donated, or used, directly or indirectly, for the use, benefit, or support of any sect, church, denomination, or system of religion, or for the use, benefit, or support of any priest, preacher, minister, or other religious teacher or dignitary, or sectarian institution as such."
Fallin's actions prompted questions about whether she would refuse a court order to remove the monument. A gubernatorial spokesman said it was too early to address such a question.
Ryan Kiesel, Oklahoma's executive director of the American Civil Liberties Union, said there was no question from the ruling that the statue should go. "The Supreme Court did not give any leeway in their opinion. The bipartisan, seven-member majority did not say remove the monument except if you look into your crystal ball and think the law might allow it at some point in the future and go ahead and keep it," Kiesel told the Tulsa World. "The court said: Remove the monument."
-Noel Brinkerhoff
To Learn More:
Gov. Mary Fallin, Monument Unmoved by Supreme Court's Ten Commandments Ruling (by Barbara Hoberock, Tulsa World)
Defiant Oklahoma Governor Says Ten Commandments Monument Will Stay On State Capitol Grounds (by Marina Fang, Huffington Post)
Okla. Governor Defies State Supreme Court (by David Lee, Courthouse News Service)
Oklahoma Joins Texas in Prohibiting Local Bans on Fracking (by Noel Brinkerhoff and Steve Straehley, AllGov)
Oklahoma Gov. Fallin Signs Bill Banning Minimum Wage Increases by Cities (by Noel Brinkerhoff, AllGov)