Of 10,885 Peer-Reviewed Articles on Climate Change in 2013, Only 2 Question Human Involvement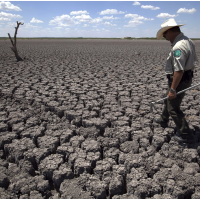 Dried Lake in Texas (photo: Tony Gutierrez, AP)
James L. Powell is an MIT-educated geologist who taught students about the earth for 20 years at Oberlin College and served on the prestigious National Science Board at the request of two Republican presidents (Ronald Reagan and George H.W. Bush). He's also a believer in human-made global warming, and has spent considerable time reviewing scientific and academic papers on the subject.
In 2013 alone, Powell found 10,885 peer-reviewed articles that discussed global warming or climate change. But only two described as peer-reviewed denied the widely-held belief that the planet is warming up because of humans, he says, and one of the two turned out not to be peer-reviewed.
One of those papers was produced by a Russian scientist, S. V. Avakyan, who claims global warming is a product of solar activity. Avakyan also says that calls for reducing the release of greenhouse gases into the atmosphere not only won't help, but could cripple Russia's economy and the oil industry. The other paper, published by a German chemistry publication, amounted to a one-page opinion piece that wasn't peer-reviewed, according to Powell.
In addition to the more than 10,000 articles he found for last year, Powell says he's reviewed more than another 15,000 papers on climate change. Of the grand total of
25,182 scientific articles he's read, only 26 rejected the idea that humans are causing global warming.
These 26 papers do not offer a common, rival theory to man-made global warming, he says. Instead, they amount to "a hodgepodge of alternatives, none of which has caught on. The dissenting articles are rarely cited, even by other dissenters. A groundswell this is not. The 26 rejecting articles have had no discernible influence on science," he wrote on his blog.
He further states that "the so-called debate over global warming is an illusion, a hoax conjured up by a handful of apostate scientists and a misguided and sometimes colluding media, aided and abetted by funding from fossil fuel companies and right wing foundations."
Powell is not alone in claiming that conservatives and oil interests have tried to discredit man-made global warming.
Robert Brulle, a sociologist at Drexel University, and other academics published a paper late last year saying right-wing organizations had spent an average of $1 billion a year to support campaigns that attempt to refute the existence of global warming.
Brulle and his collaborators discovered more than 90 think tanks, advocacy groups and industry associations working to block action on climate change. The effort has been funded largely by conservative billionaires, such as the Koch brothers, using secretive funding networks to conceal their contributions.
-Noel Brinkerhoff
To Learn More:
Climate Change Denial Gets Billions in Dark Money from Conservative Groups (by Noel Brinkerhoff, AllGov)
Scientists Denying Human-Caused Climate Change Fade from Existence…Except in the Media (by Matt Bewig, AllGov)