Obama Justice Dept. Insists Details of Anti-Iran Campaign are so Secret they won't Say Why It's Secret
Tuesday, November 25, 2014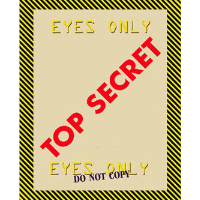 (AP graphic)
The Obama administration has asserted that the secretive nature of its demand for throwing out a lawsuit brought against an anti-Iran organization is consistent with previous hush-hush attempts to stymie the judicial system. Officials just can't say why that's so … because it's (that's right) a secret.
United Against Nuclear Iran (UANI) is being sued by Greek shipping magnate Victor Restis for defamation after the group accused Restis of doing business with Iran and violating the U.S. sanctions against that country.
In what amounts to a trust-us-we-really-know-what's-best argument, the Department of Justice filed a brief (pdf) in federal court recently that seeks to explain—in a non-explainable way—why it wants the case against UANI tossed. All officials have been willing to say is the case could expose government secrets. They won't say what kind of secrets they are, or which agency might be involved in the matter.
"Once the Court is satisfied that there is a 'reasonable danger' that state secrets will be revealed . . . any further disclosure demanded by plaintiffs would be a 'fishing expedition' that the Court should not countenance because it amounts to 'playing with fire' on national security matters," according to the brief.
Legal observers have called the administration's legal position "extraordinary and unprecedented," according to Steven Aftergood of the Federation of American Scientists.
Justice lawyers have countered that there "have been cases, like this one, where specific details concerning the Government's interest in a private lawsuit could not be described on the public record," per their brief. A case from 22 years ago, Terex Corporation v. Richard Fuisz and Seymour Hersh, was cited to back their argument. Aftergood wrote that the government asserted the state secrets privilege in that case, but didn't identify the source. The case was dismissed.
In the latest brief, the administration again insisted that the government "cannot publicly reveal the scope or nature of the privileged information at issue here. Whatever impact exclusion of this information would have on the parties' ability to establish their claims or valid defenses, the Government believes that further proceedings would inevitably risk the disclosure of state secrets if this case were to proceed."
-Noel Brinkerhoff
To Learn More:
Some State Secrets Cases Are a Secret, Govt Says (by Steven Aftergood, Federation of American Scientists)
In State Secrets Case, Feds Say Mum's the Word (by Adam Klasfeld, Courthouse News Service)
Victor Restis v. American Coalition against Nuclear Iran (U.S. District Court, Southern New York)
The Mysterious Case of the Obama Administration Claiming State-Secrets Privilege in a Private Defamation Lawsuit (by Noel Brinkerhoff, AllGov)
Mystery Surrounds U.S. Justice Department Move to Wrap Anti-Iran Group in Shroud of Secrecy (by Noel Brinkerhoff and Steve Straehley, AllGov))