NSA Director Alexander Uses Weasel Words to Avoid Details of Cell Phone Tracking Program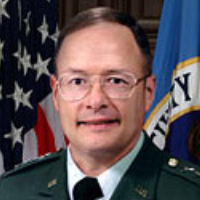 Keith Alexander
Caught lying to Congress (a felony under 18 USC § 1001) in March 2012 about government surveillance of Americans, NSA Director Keith Alexander avoided recidivism at a September 26 Senate Intelligence Committee hearing by resorting to weasel-worded non-denials regarding cell phone tracking. Given his performance in March, Alexander's verbal contortions in discussing the government's "experiments" with tracking Americans via their cell phones likely cover up more than they reveal.
Sen. Ron Wyden (D-Oregon) asked Alexander "whether the NSA has ever collected or made any plans to collect Americans' cell-site information in bulk." Alexander replied by reading from a prepared statement:
"Under Section 215 [of the Patriot Act], NSA is not receiving cell site location data and has no current plans to do so."
Alexander limited his answer to NSA's present conduct under Section 215, much to the dissatisfaction of Sen. Wyden. Note what he left out of his answer: Is NSA collecting location data under any other section of the Patriot Act or under an unknown or secret source of authority? How about other agencies? Have they collected such data in the past?
Just one week later, at a Senate Judiciary Committee hearing on October 2, Alexander expanded his answer slightly by admitting that NSA had "experimented" in 2010 and 2011 with collecting such data.
Wyden, a consistent critic of the spying who is sponsoring legislation to require a warrant before authorities can collect cell phone location data, said after the Judiciary hearing that the NSA was still not talking straight: "After years of stonewalling on whether the government has ever tracked or planned to track the location of law-abiding Americans through their cellphones, once again, the intelligence leadership has decided to leave most of the real story secret—even when the truth would not compromise national security."
Divisions on the issue within Congress continue to deepen. Sen. Patrick Leahy (D-Vermont), who chairs the Judiciary Committee, said that he was drafting legislation to curtail the NSA's surveillance of Americans because "the government has not made its case that bulk collection of domestic phone records is an effective counterterrorism tool, especially in light of the intrusion on American privacy."
But Senator Dianne Feinstein (D-California), chair of the Senate Intelligence committee, continues to oppose reform, even arguing during the Judiciary hearing that the NSA programs do not count as "surveillance" because "there is no content collected by the NSA. There are bits of data–location, telephone numbers–that can be queried when there is reasonable and articulable suspicion."
An aide later tried to walk back Feinstein's reference to "location" as a mistake made because the Senator was speaking "extemporaneously."
-Matt Bewig
To Learn More:
NSA Tracked US Cell Phone Locations For Two Years, Senator Says More IS Still Secret (by Trevor Timm, Electronic Frontier Foundation)
In Test Project, N.S.A. Tracked Cellphone Locations (by Charlie Savage, New York Times)
NSA Chief Admits Testing US Cellphone Tracking (by Kimberly Dozier and Stephen Braun, Associated Press)
New Jersey Supreme Court First to Order Warrants for Cell Phone Tracking (by Matt Bewig, AllGov)
Unusual Left-Right Coalition Sues NSA over Phone Spying (by Ken Broder, AllGov California)
Montana becomes First State to Require Search Warrants for Cellphone Location Tracking (by Noel Brinkerhoff, AllGov)