New York State Prison System Infested with Racial Bias
Tuesday, December 06, 2016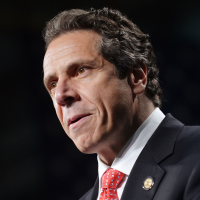 Gov. Andrew Cuomo has ordered investigation into New York state prison system (photo: Getty)
By Michael Schwirtz, Michael Winerip and Robert Gebeloff, New York Times
The racism can be felt from the moment black inmates enter New York's upstate prisons.
They describe being called porch monkeys, spear chuckers and worse. There are cases of guards ripping out dreadlocks. One inmate, John Richard, reported that he was jumped at Clinton Correctional Facility by a guard who threatened to "serve up some black mashed potatoes with tomato sauce."
"As soon as you come through receiving, they let you know whose house it is," said Darius Horton, who was recently released from Groveland Correctional Facility after serving six years for assault.
Most forbidding are the maximum-security penitentiaries — Attica, Clinton, Great Meadow — in rural areas where the population is almost entirely white and nearly every officer is too. The guards who work these cellblocks rarely get to know a black person who is not behind bars.
Whether loud and vulgar or insinuated and masked, racial bias in the state prison system is a fact of life.
It is also measurable.
A review by The New York Times of tens of thousands of disciplinary cases against inmates in 2015, hundreds of pages of internal reports and three years of parole decisions found that racial disparities were embedded in the prison experience in New York.
In most prisons, blacks and Latinos were disciplined at higher rates than whites — in some cases twice as often, the analysis found. They were also sent to solitary confinement more frequently and for longer durations. At Clinton, a prison near the Canadian border where only one of the 998 guards is African-American, black inmates were nearly four times as likely to be sent to isolation as whites, and they were held there for an average of 125 days, compared with 90 days for whites.
A greater share of black inmates are in prison for violent offenses, and minority inmates are disproportionately younger, factors that could explain why an inmate would be more likely to break prison rules, state officials said. But even after accounting for these elements, the disparities in discipline persisted, The Times found.
The disparities were often greatest for infractions that gave discretion to officers, like disobeying a direct order. In these cases, the officer has a high degree of latitude to determine whether a rule is broken and does not need to produce physical evidence. The disparities were often smaller, according to the Times analysis, for violations that required physical evidence, like possession of contraband.
Blacks make up only 14 percent of the state's population but almost half its prisoners. Racial inequities at the front end of the criminal justice system — arrest, conviction and sentencing — have been well documented.
The degree of racial inequity and its impact in the prison system as documented by The Times have rarely, if ever, been investigated. Nor are these issues systematically tracked by state officials. But for black inmates, what happens inside can be profoundly damaging.
Bias in prison discipline has a ripple effect — it prevents access to jobs and to educational and therapeutic programs, diminishing an inmate's chances of being paroled. And each denial is likely to mean two more years behind bars.
A Times analysis of first-time hearings before the state Board of Parole over a three-year period ending in May found that one in four white inmates was released but fewer than one in six black inmates were.
Even well-run prisons are dangerous. There are more than 50,000 inmates doing time at 54 prisons around the state for a range of crimes, from petty theft to multiple murders. Many interviewed by The Times, like Ibrahim Gyang, who is serving 25 years to life for killing a gang rival, were confined at maximum-security prisons. He acknowledged that inmates needed guards to keep order and protect them from being preyed on by the most violent among them.
"I just want the system to follow the rules," he said.
Presented with The Times' findings, officials from the state Department of Corrections and Community Supervision said that while there were racial issues in any large organization, these had little impact on the disciplinary system in the prisons.
"With an agency of close to 30,000 staff, the vast majority of our workforce understand that it is a challenging job, and they approach it professionally," Tom Mailey, the department spokesman, said in a statement.
The agency said that some racial disparities, like why black inmates spent more time in solitary confinement than whites, could be explained by data The Times did not have access to — most important, prisoners' full disciplinary histories.
But the department provided no data to contradict The Times' findings of a systemwide imbalance in discipline.
Many of the racial problems in the New York's prisons stem from a fundamental upstate-downstate culture clash that plays out daily on the cellblocks.
The largely white workforce comes from places in northern, western and central New York like Elmira, Malone, Rome and Utica. These are some of the state's poorer and less diverse communities. In these communities, prisons are often seen as political spoils, fiercely protected by upstate politicians for the jobs they provide. They are fueled by a steady supply of inmates, mostly black or Latino, who are shipped north, far from the urban areas where they grew up. More than half the state's inmates are from New York City or its suburbs.
Blacks and whites are treated more equitably in some of the prisons close to the city, including Sing Sing Correctional Facility in Ossining, less than an hour by train from Grand Central Terminal.
Black officers make up the majority of the uniformed staff there, setting it apart from every other men's prison in the state. There were no disciplinary disparities between whites and blacks at Sing Sing, according to a Times review of the 1,286 violations issued to inmates there for breaking prison rules.
Union officials did not comment on the racial disparities in discipline that The Times found.
"While facing record high levels of violence and one of the most dangerous work environments in the country, corrections officers conduct themselves with professionalism and integrity to keep our prisons secure and our communities safe," the union said in a statement.
Inmates claim that officers regularly provoke altercations that are classified as assaults, including taunting them with racial slurs or touching them inappropriately during a pat frisk. The Times' analysis showed that prisoners charged with failing to comply with a pat-frisk order were also often charged with assault. Overall, black men were punished seven times as often for pat-frisk infractions as white men, and among inmates younger than 25, blacks received 185 tickets, while whites got only 14.
Paths to Improvement
No other prison in the state is like Sing Sing. Of the 686 uniformed staff members there, 83 percent are black or Latino, compared with 17 percent for the entire state prison system.
Reggie Edwards, who is serving 25 years to life for murder, said Sing Sing's guards were often from the same neighborhoods as the inmates. Edwards said the white guards knew city life and were more likely to have black or Hispanic friends.
"They identify with us," he said. "They see things from our perspective."
The disciplinary disparities in most of the other prisons do not exist at Sing Sing. Black inmates make up 57 percent of the population there and get 58 percent of the tickets.
Guards write fewer disciplinary tickets there than they do at most other maximum-security prisons. In 2015, there were 27 tickets given for assault on staff at Sing Sing, compared with 91 at Great Meadow Correctional Facility, a maximum-security prison of similar size in Comstock.
Because Sing Sing is so close to the city, with major nonprofits like the Fortune Society and the Osborne Association nearby, it has more programs than most state prisons. Inmates can get a college degree and participate in theater and art initiatives.
Sing Sing also receives more family visits annually than any other prison in the state, the department said.
For these reasons, Sing Sing is used by the corrections department as a reward for inmates with good records at other prisons.
Sing Sing can still be brutal. One assault case examined by The Times involved an inmate named James Wright, who was released last year after completing a five-year robbery sentence. Wright argued with a guard, was pushed against a wall and subdued by four other officers, according to the incident report. The guards had no injuries; Wright's two front teeth were knocked out.
And still, when asked if the prisons farther upstate were worse for black inmates, Wright answered, "Absolutely."
Outside Intervention
On Sept. 21, Preet Bharara, the U.S. attorney for the Southern District of New York, announced that a group of corrections officers at Downstate Correctional Facility, in Fishkill, had been arrested over the brutal beating of Kevin Moore, a black inmate. Moore, 56 at the time, had five broken ribs, a collapsed lung and shattered bones in his face. The guards, who called themselves the Downstate Four, were also accused of ripping out his dreadlocks. One of them even bragged about using the dreadlocks to decorate his motorcycle, the indictment said.
Just as egregious was the cover-up, Bharara said: The officers hit one of their own on the back with a baton to make him appear injured, took several photos for the record and falsified reports claiming that Moore had attacked them, according to the indictment.
"Excessive use of force in prisons, we believe, has reached crisis proportions in New York state," Bharara said at the news conference.
Like Attica and Clinton, Downstate is a particularly difficult prison for minority inmates, who, in 2015, were more than twice as likely to be disciplined as whites, The Times' analysis showed. Blacks and Latinos got 1,078 tickets, while whites received 144.
Moore was so badly beaten that he spent 17 days in the hospital.
What happened next is a prime example of why many inmates consider the prison disciplinary system to be a farce.
Moore was issued a ticket for assault on staff and put in solitary confinement after being discharged from the hospital.
It was only when an internal affairs investigator with the corrections department intervened that Moore was let out of isolation and the assault charge was dropped.
By then, he said, he had spent 26 days in solitary confinement. After the officers were indicted, he was transferred out of state custody and moved to an undisclosed location to protect him from possible reprisals by corrections officers.
To Learn More:
Lawsuit Claims New York State Prisons' "Zero Tolerance" of Female Inmate Sex Abuse is a Sham (Associated Press)
Inspector General Alleges Racism and Abuse at High Desert State Prison (by Ken Broder, AllGov California)