Lawsuit Claims New York State Prisons' "Zero Tolerance" of Female Inmate Sex Abuse is a Sham
Monday, February 29, 2016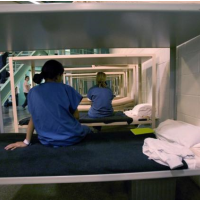 (photo: Robert Nickelsberg, Getty Images)
NEW YORK (AP) — Sexual abuse and harassment of women in New York State prisons persists and flourishes because the state's "zero tolerance" policy is a sham, a lawsuit says.
The lawsuit filed Thursday in Manhattan federal court asks a judge to force the state to prevent women from being sexually abused by male guards. The lawsuit seeking class action status represents six women on behalf of an estimated 2,300 women in state custody at three institutions.
In a release, attorney Veronica Vela at The Legal Aid Society's Prisoners' Rights Project said the state has long failed to take steps it knows would reduce risks women face in prisons.
Those steps include upgrading the "grossly inadequate" reporting, investigation and response to complaints of sexual misconduct, the lawsuit said. It claimed the state now relies almost completely on women reporting misconduct, fails to credit them without physical proof or substantial corroboration and fails to adequately punish guards who are caught.
The lawsuit said the state has relied "on a decades-old rule that is 'zero tolerance' in name only" and fails to supervise, investigate and discipline staff to stop the abuse.
It said the approach had created a prison culture that was "functionally indifferent to the risk of sexual abuse for women prisoners, allowing staff sexual abuse and harassment to persist and flourish."
The prison culture permits supposed "willing" or "consensual" sexual contact between prisoners and guards even though "state law, prison policy, and common sense make clear that women in custody are unable to consent in the coercive prison environment," the lawsuit said.
Guards are so unlikely to be punished for misbehavior that they freely disregard policies that would stop them, the lawsuit said.
New York State Department of Corrections and Community Supervision spokesman Thomas Mailey said the department "takes all allegations of sexual abuse seriously" but doesn't comment on litigation.
He said any sexual abuse claim is processed through a sex crimes unit within the department's special investigations office.
"In addition to rigorous employee training for both staff and inmates, we continue to strictly adhere to established guidelines under the Prison Rape Elimination Act," Mailey said.
The lawsuit listed six women who were described anonymously. One is a 24-year-old woman confined to the Bedford Hills Correctional Facility since 2011. The lawsuit said she was sexually abused for nearly three years. The lawsuit also seeks to represent all current and future inmates at Taconic and Albion prisons.
To Learn More:
Inspector General Alleges Racism and Abuse at High Desert State Prison (by Ken Broder, AllGov California)
A Closer Look at Prison Sterilizations and the Doctor Said to Champion Them (by Ken Broder, AllGov California)
Justice Dept. Accuses Alabama Women's Prison of Rampant Sexual Abuse (by Noel Brinkerhoff, AllGov)