New York City Bans "Poor Doors" to Mixed-Income Housing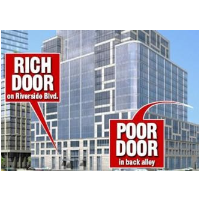 (graphic: Affordable Housing Institute)
New residential buildings in New York City that get a tax break for having units reserved for low-income tenants will no longer have "poor doors," separate entrances for low-income residents.
New York Mayor Bill De Blasio crafted language that was put into state legislation signed Friday by Gov. Andrew Cuomo (D) that requires developers of high rises that have a mix of affordable units and market-rate units to allow both groups to use the same doorways.
"Once we brought it to everyone's attention, people were willing to take a step back and say: 'Well if developers aren't going to do this voluntarily, we will require it to happen,'" New York councilwoman Helen Brewer told The Guardian. "Fundamentally, no taxpayer dollar should go to a program that further segregates our communities. Certainly not by socioeconomic status."
Poor doors gained national attention when a 33-story structure at 40 Riverside Boulevard announced that its low-income tenants would use a different entrance and even have a different address. That building, and others like it that have already been constructed, are exempt from the new law. One such building, at 1 West End Avenue, is now allowing all its residents to use its courtyard and river-view roof deck, according to The Guardian.
The use of poor doors resulted in mockery last year from late night television hosts like Stephen Colbert. "Now, poor doors are just the latest in a trend that helps us haves not have to see the have-nots," Colbert said. "I mean, we haves get skyboxes instead of bleachers, personal shoppers instead of going to a store, and at airports, first class has its own TSA lane."
-Noel Brinkerhoff, Steve Straehley
To Learn More:
NYC Bans 'Poor Doors' — Separate Entrances For Low-Income Tenants (by Justin Moyer, Washington Post)
New York Bans 'Poor Doors' in Win for Low Income Tenants (by Jana Kasperkevic, The Guardian)
88,000 Apply to Live in one of 55 Low-Cost Rental Units Tacked on to a High-End New York City Condo Tower (by Noel Brinkerhoff, AllGov)
West Hollywood Rejects Second-Class Access for Poorer Residents in Swanky Development (by Ken Broder, AllGov California)