Nebraska Judge Strikes Down Law Allowing Keystone Pipeline in the State
Friday, February 21, 2014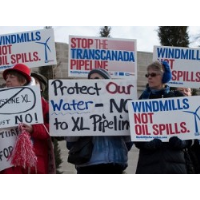 Protestors in Lincoln, Nebraska (photo: Sierra Club)
The Keystone XL pipeline has hit a major snag in Nebraska, where a local judge threw out the governor's approval for the project to cut through the state and kick landowners off their property.
In deciding a lawsuit brought by three residents who oppose the pipeline, Lancaster County Judge Stephanie Stacy ruled that Republican Gov. Dave Heineman lacked state constitutional authority to okay the project and provide the pipeline's builder, TransCanada Corp., with the power of eminent domain to force property owners to sell their land.
Under Nebraska's constitution, only the Nebraska Public Service Commission, which regulates pipelines and other utilities, can grant such authority, the judge said. The commission has had that authority since the 1890s when it was formed to prevent the governor from giving out favors to railroad barons who wanted to plow through private property in the state.
Supporters of the Keystone project wanted to avoid going through the commission because of uncertainty over whether its members would approve the pipeline. Even if they did okay it, the commission would first require the legislature to adopt a new pipeline-sitting, or routing, law.
Nebraska Atty. Gen. Jon Bruning said the state will appeal the ruling.
The ruling could further delay the building of the pipeline, which would run across Montana, South Dakota, Kansas, Oklahoma, and Texas, which have already approved their segments.
TransCanada could complete the work without going through Nebraska, but an alternative route would involve more states and set back completion even further.
Environmentalists have opposed Keystone, arguing it would transport "dirty oil" that would contribute to global warming, harm wildlife, ruin underground water supplies, and risk the danger of oil spills on U.S. lands.
-Noel Brinkerhoff
To Learn More:
Nebraska Law that Allowed Keystone XL Struck Down (by Grant Schulte, Associated Press)
Nebraska Judge Strikes down Legislature's Move Allowing Keystone XL Route (by Lenny Bernstein, Washington Post)
Read the Judge's Ruling (JournalStar.com) (pdf)
State Dept. Releases Keystone Pipeline Report Amid Conflict-of-Interest Controversy (by Steve Straehley, AllGov)
Interior Dept. Clashes with State Dept. over Impact of Keystone Pipeline on Wildlife (by Noel Brinkerhoff, AllGov)
The Mysterious Route of the Keystone Pipeline (by Noel Brinkerhoff, AllGov)