Natural Gas Production Blamed for Methane Plume the Size of Delaware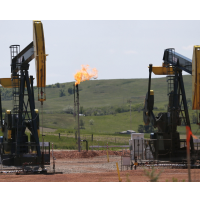 Methane gas flares off at an oil well (AP photo)
Blue skies and occasional clouds isn't all that hovers above the American Southwest. There is also an enormous plume of methane gas—roughly the size of Delaware—that may be invisible to the human eye, but which can be detected by satellites. And that gas—all coming from natural gas wells—is contributing to climate change.
The giant methane plume is the largest such concentration of that greenhouse gas that can be detected over the United States, according to the National Aeronautics and Space Administration (NASA). It hovers ominously near the Four Corners region at the intersection of New Mexico, Arizona, Colorado and Utah.
That collection of methane is the result of thousands of natural gas wells (40,000 wells near Cuba, New Mexico, alone), each of which leak small amounts of the gas. These small amounts, however, have produced a big "hot spot"—about 2,500 square miles in size—that is contributing to the accumulation of greenhouse emissions and making it harder for the U.S. to meet its goals of reducing its climate change footprint. That area has been releasing about 0.59 million metric tons of methane into the atmosphere per year, at least between 2003 and 2009, the period studied by scientists at NASA and the University of Michigan.
The news was reported in a new study by the scientists, who based their findings on satellite data and high-resolution regional simulations that they performed.
The biggest culprit among the thousands of leaking gas wells is the one in New Mexico's San Juan Basin, which is the most active coalbed methane production area in the U.S., according to the researchers.
Much of the gas from the wells escapes via leaking pipes or when it is released into the atmosphere by companies that are only drilling for oil. Some of those firms burn off the methane, which converts it into carbon monoxide, another greenhouse gas that forms a brownish pall blanketing the sky.
The Environmental Protection Agency (EPA) lists methane as "the second most prevalent greenhouse gas emitted in the United States from human activities." The gas "accounts for about 9 percent of U.S. greenhouse gas emissions, and the biggest single source of it — nearly 30 percent — is the oil and gas industry," reported The Washington Post, citing EPA figures. Methane also has "up to 80 times as much heat-trapping potency per pound as carbon dioxide over the short term," added the newspaper.
- Danny Biederman, Noel Brinkerhoff
To Learn More:
U.S. Methane 'Hot Spot' Bigger than Expected (National Aeronautics and Space Administration)
Delaware-Size Gas Plume Over West Illustrates the Cost of Leaking Methane (by Joby Warrick, Washington Post)
Small Texas Fracking Company Earns Title of Worst Energy Sector Polluter (by Steve Straehley, AllGov)
U.S. Methane Emissions May be 50% Higher than EPA Estimates (by Noel Brinkerhoff and Danny Biederman, AllGov)