National Institutes of Health Orders Halt to Use of Chimpanzees in Biomedical Research
Monday, November 30, 2015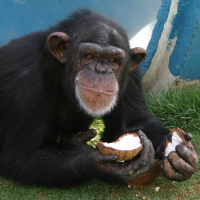 (photo: NIH)
The National Institutes of Health (NIH) will stop all use of chimpanzees in biomedical research, two years after it significantly cut back on lab use of the primates.
In 2013, NIH retired more than 300 chimps after an internal panel of medical advisers said the NIH could get by without them for research. The health research agency kept 50 chimps for vital research, such as combatting public health emergencies. But earlier this month NIH director Francis Collins announced the remaining animals would be retired to sanctuaries.
"It is clear that we've reached a tipping point," Collins wrote. "In accordance with NIH's commitment in June 2013, I have reassessed the need to maintain chimpanzees for biomedical research and decided that effective immediately, NIH will no longer maintain a colony of 50 chimpanzees for future research."
Collins added the "relocation of the chimpanzees to the Federal Sanctuary System will be conducted as space is available and on a timescale that will allow for optimal transition of each individual chimpanzee with careful consideration of their welfare, including their health and social grouping."
Additionally, NIH intends to develop a plan for phasing out all agency support for the remaining chimps that are supported by, but not owned by, the NIH, according to Nature magazine.
-Noel Brinkerhoff
To Learn More:
NIH Will No Longer Support Biomedical Research on Chimpanzees (by Francis S. Collins, M.D., Ph.D., National Institutes of Health)
NIH to Retire All Research Chimpanzees (by Sara Reardon, Nature)
Chimps Don't Have the Same Legal Rights as People, Judge Rules (by Noel Brinkerhoff, AllGov)
If Non-Human Corporations can be Protected by Habeas Corpus, Why can't Chimpanzees? (by Noel Brinkerhoff, AllGov)
Most Chimpanzee Research No Longer Necessary (by Noel Brinkerhoff, AllGov)