More U.S. Cities Issuing ID Cards for Expanded Services for Undocumented Immigrants and Poor
Friday, September 16, 2016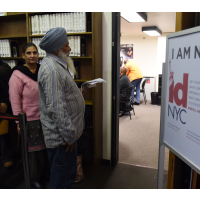 Immigrants in line for ID cards in New York City (photo: Don Emmert, AFP/Getty Images)
By Jeff Karoub and Deepti Hajela, Associated Press
DETROIT (AP) — Identification cards issued by a growing number of U.S. cities to make it easier for immigrants living in the country illegally and poor people to open bank accounts and access social services are now being used as passes for anything from pharmacy discounts to free museum memberships.
And there's hope they can make immigrants feel more at home amid the unwelcoming rhetoric of this presidential campaign season.
Pushed by immigrant advocates and others, the ID cards were first introduced almost a decade ago in New Haven, Connecticut. San Francisco followed and expanded what the cards could do. New York City launched the country's most ambitious program last year.
Detroit will soon become the latest city with a municipal IDs program.
"I think for me it's important to emphasize it's not about immigration. It's about building inclusive democracies and removing barriers in our communities," said Detroit City Councilwoman Raquel Castaneda-Lopez, who helped lead the effort in her city.
Such programs accept many different types of documents, making it easier for immigrants, homeless people, ex-prisoners and others who might lack birth certificates or proof of residency to get IDs. Many are based on point systems allowing applicants to submit a combination of documents or cards. Those include U.S. or foreign passports, documents denoting service in the military, attendance at schools, and completion of a prison sentence or community service program.
Detroit's IDs program, set to launch this month, follow the U.S. Supreme Court's recent deadlock on a decision effectively blocking an Obama administration plan to shield millions of immigrants living in the country illegally from deportation.
It also comes amid rhetoric on the presidential campaign trail, where Republican nominee Donald Trump has proposed temporarily banning foreign Muslims from entering the country and vowed to build a wall along the Mexican border. Detroit and its suburbs are home to one of the biggest Arab-American communities in the U.S., and the city has a large and growing Hispanic population.
Nadia Tonova, director of the National Network of Arab American Communities, said using the program "sends a really strong statement" about welcoming "the most vulnerable" residents.
"I certainly think that those types of messages are needed this year more than ever," said Tonova, whose network has 25 member organizations in 12 states.
About 10 municipalities have ID programs and at least 12 more are seeking them, according to nonprofit advocacy groups.
Castaneda-Lopez, the daughter of a Mexican immigrant and the first Latina elected to Detroit's city council, said the city's cards are not meant to replace state IDs or driver's licenses but can help prove residency to secure social services or apply for a job.
The council passed an ordinance this year to create the municipal IDs. Census data show Detroit's foreign-born population in 2014 was about 38,700, out of a total 680,000 residents. Of those, 13,600 were naturalized U.S. citizens and 25,000 were non-U.S. citizens.
In New Haven, officials began issuing the IDs in 2007 after immigrants who lacked government identification began to worry about their safety. Some had trouble opening bank accounts without an ID and became targets for robbers looking to steal cash.
Some critics have accused ID programs of being a way to obtain information about residents that could be used against them. New Haven officials stress the confidentiality of their records.
Backlash also has come from people and groups that don't think public money should be spent to help immigrants who are in the country illegally. But people involved in pushing municipal ID efforts argue that the broadening benefits add to the cards' value and attract more people to use them, even those with traditional forms of ID.
Graciela Flores, a mother of three children from Queens, New York, got her municipal ID last year. She said she has used her card to get into the Bronx Zoo for a discounted price and looks forward to its other perks.
"It's accepted wherever I go," she said through a translator, adding that "nobody asks me any questions."
New York City Councilman Carlos Menchaca, author and co-sponsor of that city's ID legislation, said the city has tied several benefits to the cards to make them more attractive, which has helped ensure their success. He said another plus is that New York City police accept them as valid forms of ID when making stops.
To Learn More:
Photo ID Cards are not an Effective way to Stop Food Stamp Fraud (by Steve Straehley, AllGov)
Oakland Says Charge It, Instead of Charge Them, with Debit/ID Card Undocumented Immigrants Can Use (by Ken Broder, AllGov California)