Montana First State in Nation to Protect Reporters' Electronic Data Held by Providers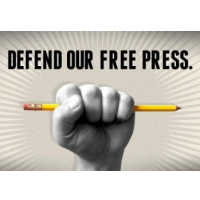 (graphic: Free Press)
Journalists in Montana will enjoy greater protections for their information stored electronically under a first-of-its-kind law.
The Media Confidentiality Act, signed into law April 9, expands the state's shield law by closing a loophole that allowed state and local governments to contact Internet service providers and social media sites to obtain reporters' emails, notes and other confidential information.
"When it's on a Gmail server it's not your information anymore," Republican Rep. Daniel Zolnikov, who introduced the bill, told the Associated Press.
The law prohibits "governmental bodies from requesting or requiring the disclosure of privileged news media information from services that transmit electronic communications," and prohibits "an electronic communication service from being adjudged in contempt if the electronic communication service refuses to disclose certain information," according to Courthouse News Service.
"The bill is the first of its kind in the nation and an important first step forward in protecting the freedom of the press, especially in light of the government's recent investigations focusing on members of the media," Courthouse News' Philip A. Janquart wrote.
Two years ago, the U.S. Department of Justice issued subpoenas for phone records from the Associated Press. Justice officials also tried to prosecute Fox News reporter James Rosen as a "criminal co-conspirator" under the Espionage Act of 1917 over the leaks of classified information about North Korea.
The new law was supported by nearly all of the state's lawmakers, passing the Montana House by a vote of 90-7 and the Senate by 47-1.
-Noel Brinkerhoff
To Learn More:
Montana Closes Loophole in Media-Shield Law (by Philip A. Janquart, Courthouse News Service)
Bill Would Close Loophole in Montana Media Shield Law (by Lisa Baumann, Associated Press)
Expanded Surveillance Protections for Journalists Proposed in Montana (RT)
Senate Narrows Definition of "Journalist" for Proposed Shield Law (by Noel Brinkerhoff, AllGov)
Sen. Feinstein Says only Salaried Journalists should be Protected by Shield Law (by Matt Bewig, AllGov)