Minnesota Town First to Monitor Pollution Caused by Fracking Sand on Passing Trucks
Monday, November 18, 2013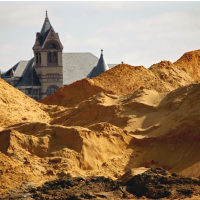 Frac sand in Winona, Minnesota (photo: Brian Peterson, Minneapolis Star Tribune)
Although groundwater pollution caused by hydraulic fracturing or "fracking" is a well-known problem, the citizens of the small town of Winona, Minnesota—with little fracking nearby—recently decided to begin monitoring air pollution escaping from the tons of sand being trucked through their town for delivery to fracking fields elsewhere. Winona (2010 pop.: 27,592) sees about 100 sand trucks go through town every day from silica mines in neighboring Wisconsin, and will be the first local government in the United States to address air pollution caused by the shipment of fracking sand.
In fracking, energy companies use powerful pumps to force a mixture of water, sand and chemicals into deep layers of rock like shale, causing fractures there, which allow the extraction of otherwise unavailable natural gas or oil. Although the mix is about 99% water, the remaining 1% includes highly toxic chemicals harmful even in tiny amounts, including methanol, hydrofluoric acid, sulfuric acid and formaldehyde.
And the "frac sand" is special sand. The pure silica sand mined in Wisconsin, which ships 130,000 tons of sand every day to frackers around the country, is in high demand because it is ideal for fracking. A single fracking well may need as much as 10,000 tons of sand during its lifetime, and about 50 new such wells are being drilled in the U.S. every day.
The dangers of silica exposure, which causes silicosis and kills hundreds of workers every year, have been well-known for some time, but silica pollution from mining, processing and transporting sand is not well understood. Public health advocates are most concerned about super-tiny dust called PM 2.5, which at 2.5 micrometers diameter can penetrate lung tissue and enter the bloodstream. The safety limit for PM 2.5 set by the Environmental Protection Agency and followed by Minnesota is 12 micrograms per cubic meter over a one-year period or 35 micrograms per cubic meter over a 24-hour period.
Under Winona's plan, which is expected to receive final approval soon, air pollution sensors will be installed next to the busiest road for frac sand truck traffic to measure concentrations of PM 2.5 and PM 4 particles. The town plans to use the data to determine if levels are within the established guidelines. "This is not a specific city's problem—it's a regional problem," explained Jim Gurley, co-founder of the Winona-based group Citizens Against Silica Mining.
Nor is Winona alone in its concerns. About a dozen Minnesota counties and towns, including Winona County and the City of Winona, have enacted moratoriums on frac sand permits until the environmental and health impacts are better studied.
-Matt Bewig
To Learn More:
Tiny Minnesota City Draws a Line in the Frac Sand Boom (by Zahra Hirji, InsideClimate News)
Fracking Truck Sets Off Radiation Alarm at Pennsylvania Landfill (by Aaron Wallechinsky and Noel Brinkerhoff, AllGov)