Fracking Truck Sets Off Radiation Alarm at Pennsylvania Landfill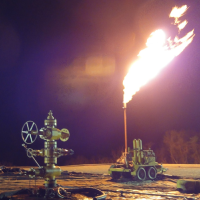 Fracking in Greene County, Pennsylvania (photo: Rice Energy)
A truck carrying fracking leftovers surprised operators of a Pennsylvania landfill when it set off a radiation alarm.
The truck loaded with shale drill cuttings contained radium 226, which was emitting gamma rays at 10 times the level allowed at the hazardous waste landfill in South Huntingdon, Pennsylvania.
Officials refused to accept the fracking waste and quarantined the truck immediately, eventually forcing it to return to the drilling site operated by Rice Energy.
Rice Energy must now decide what to do with the radioactive waste. It can try to find another landfill in Pennsylvania that accepts such a hazard, or locate one outside the state.
The EPA establishes annual limits for the maximum amount of radium and other radionuclides that may be released to the air, known as National Emission Standards for Hazardous Air Pollutants (NESHAP).
A microrem is a unit used to measure the biological risk to human tissue from radiation. According to the United States Nuclear Regulatory Commission, Americans receive, on average, a radiation dose of about 620,000 microrem each year.
For radium the NESHAP is 10,000 microrem per year. The shale drill cuttings in the truck were found to emit 96 microrem per hour of radiation, roughly 84 times higher than EPA's yearly standard.
-Aaron Wallechinsky, Noel Brinkerhoff
To Learn More:
Shale Truck Sets Off Alarm in South Huntingdon (by Paul Peirce, Pittsburgh Tribune-Review)
Fracking Truck Sets Off Radiation Alarm at Landfill (by Jeff McMahon, Forbes)
Halliburton Loses Radioactive Rod in West Texas Desert (by Noel Brinkerhoff, AllGov)
U.S. Environmental Protection Agency: Radium (EPA)
Doses in Our Daily Lives (United States Nuclear Regulatory Commission)