Military Crime Lab Seeped in Chaos and Controversy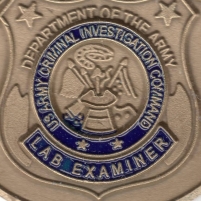 Scientific analysis has taken a backseat to scandal and chaos at the military's top crime lab, where a host of controversies have plagued the facility's management.
Complaints ranging from racism and sexual harassment to assault and fraud have been leveled at a half dozen managers at the
U.S. Army
's
Criminal Investigation Laboratory
, located at Fort Gillem, Georgia. The lab, with 180 employees, processes 3,000 criminal cases a year.
The accusations prompted at least six internal investigations over a four-year period. Managers have been at each other's throats, and the lab's former lawyer claimed she was retaliated against for going public about some of the problems.
Among the cases uncovered during an investigation by McClatchy was that of a handwriting expert, Allen Southmayd, who embezzled nearly $70,000 from a professional association to finance his gambling addiction.
In another example, analyst Philip Mills was found to have falsified a report, triggering a three-year, $1.4 million retesting of his other cases that revealed he had made dozens of mistakes. Because the lab did not inform defense attorneys of the errors, defendants were wrongfully convicted, including in cases of rape.
-Noel Brinkerhoff, David Wallechinsky