McAfee-Owned Company had Access to Hillary Clinton's Classified Emails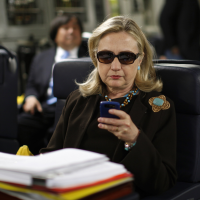 Hillary Clinton checks her BlackBerry while secretary of State (AP photo)
Hillary Clinton's use of a private email account gave a private company—and potentially others—access to secret State Department information, according to a published report.
Marc Perkel at Dvorak Uncensored wrote that Clinton used a commercial spam filtering service, MxLogic, now owned by McAfee, to monitor emails coming into her account. To be able to filter out spam, MxLogic had to be able to read the emails. Thus, anyone with access to MxLogic's system, which could include someone from outside the company, could read emails meant for Clinton. Those emails would include communications coming from the White House and foreign governments.
"So – for example – if I'm a Russian spy, ISIS, North Korea, or Fox News, or a 14-year-old hacker, all I have to do is bribe someone at McAfee or hack their work login, and they get to read all the email of the Secretary of State," Perkel wrote.
Clinton even has web mail available, so that anyone with internet access can try hacking into her account.
Another potential problem uncovered by Perkel involves Clinton's email server itself. Perkel was able to run a security test on the server and it came back with a "B" grade, which isn't what one wants to see when dealing with top-secret communications.
"The system… had numerous safeguards," Clinton said in her recent press conference. "It was on property guarded by the Secret Service and there were no security breaches. So I think that the use of that server… certainly proved to be effective and secure." But Perkel begs to disagree. He said it's likely the server is in fact not in Clinton's house or office, which are guarded by the Secret Service, but rather in a more vulnerable commercial data center.
-Steve Straehley
To Learn More:
Spam Filtering Service Had Access to Clinton Classified Emails (by Marc Perkel, Dvorak Uncensored)
Did Spam Filtering Service Have Full Access to Clinton Emails (Peter Van Buren, Ghosts of Tom Joad)