Marriott Sued for Forcing Hotel Housekeepers to Use Hazardous Chemicals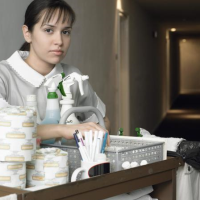 (photo: Digital Vision/Photodisc/Getty Images)
A group of housekeepers is suing Marriott International for forcing them to use hazardous chemicals to clean hotel rooms.
Some of the chemicals used at Marriott hotels come with warnings to wear protective clothing such as a respirator, glasses or both, according to the class action lawsuit. The staff was allegedly made to transfer the chemicals into non-descript bottles that bore no warning labels. The complaint says Marriott not only required housekeepers to use the hazardous chemicals, but also denied they were dangerous and threatened to fire anyone who complained about them.
Additionally, housekeepers who did not speak English were forced to sign documents written in English that they didn't understand. Among the documents were liability waivers, which the housekeepers were told they had to sign under threat of termination.
Rosa Arias, the lead plaintiff, says the chemicals caused irritation in her eyes and throat, forcing her to see a doctor who diagnosed her with "heart or respiratory complications." Following her diagnosis, Arias asked for and received four months of leave from work at the hotel—which then fired her the day before she was scheduled to return to her job. Two weeks earlier, she had given a deposition in a similar lawsuit that had been filed against Marriott.
The complaint cites $10,000-per-day statutory damages for Marriott's violation of federal law, which would total $43.8 million in damages for violating Arias's rights alone.
-Noel Brinkerhoff, Danny Biederman
To Learn More:
Class Claims Marriott Tramples on Safety (by Tim Ryan, Courthouse News Service)
Five Myths About Hotel Housekeeping (by Everett Potter, USA Today)
Marriott Vacations Worldwide Fires Employee of 11 Years Because She's Running for Office (by Noel Brinkerhoff and Steve Straehley, AllGov)