Marriott Vacations Worldwide Fires Employee of 11 Years Because She's Running for Office
Thursday, September 25, 2014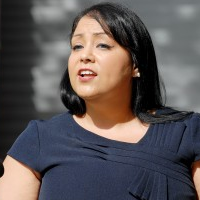 Viviana Janer (photo: Marc Clery, Osceola News-Gazette)
A Florida woman's bid for local office has resulted in her being fired from her job after her employer decided it posed a conflict of interest.
The Osceola News-Gazette reported that Janer was told she would be terminated "if I did not stop the effort to unseat" incumbent Republican John Quiñones.
"After a decade of accolades and promotions, I was told my job would be abruptly terminated if I did not drop out of the race," she told the newspaper. "Despite my wish to continue working, I felt I could not turn my back on the many citizens of Osceola County who worked so hard to get me elected. I refused to drop out of the race, and on Friday I was fired from a job I loved."
Company officials said Janer's candidacy, as well as becoming the next county commissioner, posed a conflict of interest for Marriott Vacations Worldwide. "Among other things, the commission can exercise governmental authority over individuals and corporate entities located or transacting business in the county," Julie Meyer, Marriott's senior vice president and chief audit executive, wrote in Janer's termination letter. "Those persons could include associates, contractors, other business partners and the company itself."
Janer said the company's employee handbook actually encourages those who work for Marriott Vacations Worldwide to participate in politics and nowhere does it say she must inform supervisors of an intention to run for office. A review of company policies conducted by Think Progress appears to verify Janer's claims.
The political guidelines laid out by the company state that employees are "encouraged to participate in the political and governmental process, but must be certain that they are doing so using their own resources and their own time," "to keep personal activities personal." It states that the company's encouragement "includes service on governmental bodies, work with advocacy organizations, and participation in partisan political activities."
If she wins in November, Janer, who has never held public office, would become the first Latina to serve on the commission.
Several members of Marriott Vacations Worldwide's board were backers of Republican Mitt Romney's 2012 run for president. The company was spun off from the Marriott hotel chain in 2011.
-Noel Brinkerhoff, Steve Straehley
To Learn More:
Firing Based on Campaign, Commission Candidate Says (by Ken Jackson, Osceola News-Gazette)
Marriott Employee Says She Was Fired For Running For Office (by Josh Israel, Think Progress)