Marines Clash about Women in Combat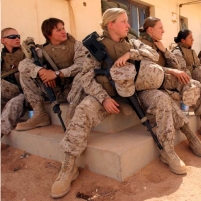 At least one female member of the
Marine Corps
doesn't believe women should be serving in combat roles for the nation's elite fighting force.
Marine Captain Katie Petronio, a combat veteran, wrote in an
editorial
in the
Marine Corps Gazette
that women fighting alongside men will not make the Marine Corps better. She cited her own experience, which left her physically drained after months in the field while serving as an engineer officer in
Iraq
and
Afghanistan
.
"I am here to tell you that we are not all created equal, and attempting to place females in the infantry will not improve the Marine Corps as the Nation's force-in-readiness or improve our national security," Petronio wrote.
"Plain and simple: If a person can meet the standards required for any occupation in the military, then they should not be disqualified due to gender," said SWAN Policy Director Greg Jacob, a former soldier and officer with combat experience.
The controversy follows a decision in February by the
Department of Defense
to open up 14,000 previously closed jobs to female service members.
Congresswoman Loretta Sanchez (D-California), a member of the House Armed Services Committee, has introduced legislation (
HR 5792
) to encourage the Pentagon to repeal the Ground Combat Exclusion policy for female soldiers.
-Noel Brinkerhoff
To Learn More: