Many Cancer Centers Coach Doctors to Solicit Donations from Wealthy, Grateful Patients
Thursday, October 01, 2015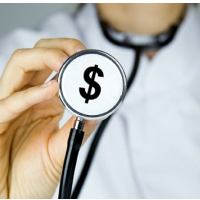 (graphic: Getty Images)
Doctors who help patients beat cancer are being asked to put their bedside manner to use again, encouraging grateful patients and their families to donate to their employers.
A survey of more than 400 oncologists from 40 top cancer centers has revealed many of them have been asked, and even coached by development officers, to solicit contributions from rich patients, according to a study published in the Journal of Clinical Oncology.
Of those surveyed, nearly 50% said they had been informed how to identify patients who might be prospective donors. A third said they had been asked to directly solicit donations — and half said no. Three percent of respondents were even promised a cut of the action: payments if a patient made a donation, according to The New York Times.
Arthur L. Caplan, head of the division of medical ethics at NYU Langone Medical Center, told the Times that the practice of asking doctors to help raise money raises ethical issues. "Patients may be emotionally vulnerable; doctors have very close ties to their patients, which can strain asking on both sides; and the fact that incentives to ask sometimes skew toward the doctor's own program rather than the most needy areas of the hospital," Caplan said.
Dr. Joseph A. Carrese, a primary care doctor and bioethicist at Johns Hopkins, said asking doctors to solicit donations from patients "is something that is happening and all signs are that it is going to continue and that it will increase."
The American Medical Association (AMA) has laid out guidelines about how a physician may participate in seeking donations from patients. "Physicians should avoid directly soliciting their own patients, especially at the time of a clinical encounter," the AMA says. It suggests ensuring information is available to those who might be interested, and if a physician is approached by a patient, he or she should be referred to a development officer.
-Noel Brinkerhoff, Steve Straehley
To Learn More:
A New Effort Has Doctors Turn Patients into Donors (by Gina Kolata, New York Times)
Oncologists' Experiences and Attitudes about Their Role in Philanthropy and Soliciting Donations From Grateful Patients (by Jennifer K. Walter, Kent A. Griffith and Reshma Jagsi, Journal of Clinical Oncology) (pdf)
Opinion 10.018 - Physician Participation in Soliciting Contributions from Patients (American Medical Association, Code of Medical Ethics)
Millions Donated to Cancer Charities Paid for Online Dating, Caribbean Cruises, Hooters Meals and Victoria's Secret Shopping (by Noel Brinkerhoff, AllGov)
Selling Donated Blood is Big Business in U.S. (by Danny Biederman and Noel Brinkerhoff, AllGov)