Man Wrongly Imprisoned for Murder Can't Sue City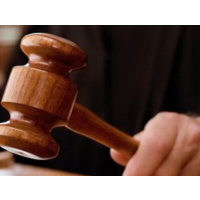 Credit: Getty Images
By Nicholas Iovino, Courthouse News Service
SAN FRANCISCO – A man who spent 20 years in jail for a murder he didn't commit cannot put San Francisco on trial for violating his due-process rights, a federal magistrate judge ruled Wednesday.
Although Maurice "Twone" Caldwell raised legitimate questions about a police officer's motive to frame him for murder, a prosecutor "broke the chain of causation" by reviewing all the evidence before he brought the case to trial, U.S. Magistrate Judge Elizabeth Laporte found (pdf).
In 1991, Caldwell was found guilty of the 1990 murder of Judy Acosta on Ellsworth Street in the Alemany Projects of San Francisco.
Caldwell claimed the key witness who identified him as the shooter was tainted by suggestive police tactics and promised financial incentives, including a trip to Disneyland, in exchange for her testimony.
He also said an officer investigating the murder fabricated evidence and wanted to put him away because Caldwell filed a complaint against the officer for threatening to kill him.
Throughout his 20 years in prison, Caldwell refused multiple plea deals that would have secured his immediate release and unequivocally insisted on his innocence despite having to face further time in prison, he claimed in his lawsuit.
Caldwell was released on March 28, 2011, a few months after San Francisco County Superior Court Judge Charles Haines overturned his conviction on a finding that Caldwell's counsel had been ineffective at trial.
In April 2012, Caldwell sued the city of San Francisco and three police officers – Kitt Crenshaw, Arthur Gerrans and James Crowley – who he said conspired to violate his due process rights.
Before becoming suspect in the Acosta murder, Caldwell had filed a complaint against Crenshaw with the city's police watchdog agency, the Office of Citizen Complaints.
According to that agency's report, Crenshaw acknowledged telling Caldwell, "Something's going to happen to you because sooner or later I'm going to catch you with a gun and you and I are going to have it out. I'm going to kill you."
Caldwell said Crenshaw falsified interview notes, claiming Caldwell told the officer he ran downstairs after he heard gunshots the night of the murder. Caldwell claimed the only thing he told Crenshaw was that he knew "nothing about nothing."
He said Crenshaw also handcuffed him and presented him to the future star witness of the trial as a suspect before the witness, Mary Cobbs, had a chance to independently identify him without the "suggestive" police tactics.
"Plaintiff has come forward with evidence that raises a triable issue of fact as to whether Crenshaw had a motive to fabricate evidence against him and engineered a suggestive 'show up,'" Laporte stated in her 34-page ruling.
However, the judge found then-Assistant District Attorney Alfred Giannini nullified Crenshaw's liability by reviewing all available evidence and speaking with the police and witnesses before he decided to prosecute Caldwell.
In order to overcome the prosecutor breaking the chain of causation, Caldwell would have to prove that police or other officials knowingly provided misinformation, concealed evidence or engaged in other wrongful conduct that heavily influenced the decision to prosecute.
"Although Crenshaw's past threats against plaintiff were not disclosed to Giannini, this is insufficient to rebut the presumption that Giannini exercised independent judgment because Crenshaw's motives were not 'actively instrumental in causing the initiation of legal proceedings,'" Laporte wrote in her ruling.
The judge also found Caldwell failed to show police improperly influenced Cobbs' testimony by offering to relocate her or give her family a trip to Disneyland.
A letter from United Airlines sent to Cobbs after she testified says the airline would provide her and her family a trip to Disneyland "in support of the Secret Witness Program" and because "Ms. Cobbs' courage should be saluted."
"This evidence does not raise a triable issue of fact here of any deliberate conduct by Gerrans or Crowley to improperly influence Cobbs to testify against plaintiff," Laporte wrote.
The judge concluded that because Caldwell failed to show the police officers violated his constitutional rights, his claim against the city of San Francisco must also be rejected.
In her conclusion, Laporte cited the 1986 U.S. Supreme Court ruling, Los Angeles v. Heller: "If a person has suffered no constitutional injury at the hands of the individual police officer, the fact that the departmental regulations might have authorized the [alleged unconstitutional conduct] is quite beside the point."
Laporte granted the city's motion for summary judgment and issued a ruling in favor of the city and the three defendant police officers.
Caldwell's attorney, Monique Alonso of Gross Belsky Alonso in San Francisco, said she and her client were "very disappointed" with the judge's decision and that they plan to appeal the ruling.
"We think that Mr. Caldwell's civil rights were definitely violated in this case, and we do intend to file an appeal," Alonso said.
To Learn More:
Texas Leads the U.S. in Compensating Wrongly Convicted; 21 States Say "Sue Us" (by Noel Brinkerhoff and Steve Straehley, AllGov)
FBI Admits Elite Forensic Unit Gave "Flawed" Testimony in almost every Hair Analysis Case (by Danny Biederman and Noel Brinkerhoff, AllGov)