Louisiana's "Kill more People" Prosecutor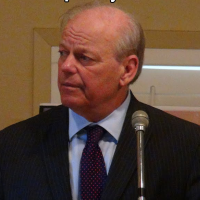 Dale Cox (photo: YouTube)
Dale Cox, the acting district attorney of Caddo Parish in Louisiana, does not mince words when it comes to explaining his views on the death penalty. Not only does Cox, 67, believe the state should use executions to punish people, he believes it should be using them more often.
"Kill more people" is what Cox said in March to The Shreveport Times about the role of capital punishment, which in his view really is about revenge.
Cox has helped his parish become one of the leading users of the death penalty. "From 2010 to 2014, more people were sentenced to death per capita here than in any other county in the United States, among counties with four or more death sentences in that time period," according to Campbell Robertson at The New York Times.
During this span, Cox secured more than a third of Louisiana's death sentences. The Catholic and one-time opponent of capital punishment has come to see executions as a legitimate way to get back at murderers.
"Retribution is a valid societal interest," Cox told the Times. "What kind of society would say that it's O.K. to kill babies and eat them, and in fact we can have parties where we kill them and eat them, and you're not going to forfeit your life for that? If you've gotten to that point, you're no longer a society."
Cox admitted to the Times that he had not seen any case involving cannibalism, "though he described it as the next logical step given what he at several points called an 'increase in savagery.'"
When a man was convicted last year of smothering his infant son, Cox wrote the man "deserves as much physical suffering as it is humanly possible to endure before he dies."
Some lawyers in Caddo Parish have expressed concern over what they view as a dramatic personality change in Cox, according to the Times. Someone they once knew as pleasant and skillful at his job as a prosecutor took off to work in insurance law for 20 years. When he returned to his prosecutorial work, they found that he had become strangely gloomy, removed and overly aggressive in the courtroom, particularly toward defense lawyers.
"The behavior in and of itself might not be a big deal," former Caddo prosecutor and assistant U.S. attorney Ross Owen told the Times. But what should be of concern is that most of the people he prosecutes "are poor and black in a part of the state with a deep history of racism," wrote Robertson, and "[H]e's got a loaded gun and he's pointing it at a lot of people," said Owen.
-Noel Brinkerhoff, Danny Biederman
To Learn More:
The Prosecutor Who Says Louisiana Should 'Kill More People' (by Campbell Robertson, New York Times)
Revenge Killing (by Rachel Aviv, New Yorker)
Louisiana Government Tricked Hospital into Supplying Execution Drug (by Steve Straehley, AllGov)