Least Satisfied Federal Workers? African Development Foundation and Chemical Safety and Hazard Investigation Board
Thursday, October 08, 2015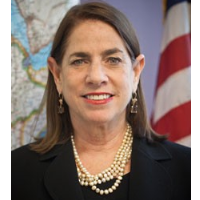 Shari Berenbach, president and CEO of African Development Foundation
There are some seriously unhappy workers at the African Development Foundation, an independent public corporation and government agency that works to further economic growth in Africa.
The foundation registered, by far and away, the lowest score among federal agencies when it comes to employee satisfaction, as measured by the Federal Employee Viewpoint Survey. Its score was 18%.
The next lowest score was registered by the Chemical Safety and Hazard Investigation Board. It was twice that of the African Development Foundation, 36%.
The chemical safety board has been rocked by chaos and coup, thanks to poor leadership, which makes you wonder what has gone on at the African Development Foundation to generate such a bottom-of-the-barrel score.
Other agencies scoring below 50% were the Federal Election Commission (43%), Commodity Futures Trading Commission (46%), Department of Homeland Security (DHS) (47%), and Commission on Civil Rights (49%).
DHS had the lowest mark among large federal agencies. Its satisfaction rating has dropped considerably from 62% five years ago, according to The Washington Times.
The highest mark in the government went to the Federal Mediation and Conciliation Service (86%), followed by the Federal Labor Relations Authority (85%), National Endowment for the Humanities (78%), Surface Transportation Board (77%) and National Aeronautics and Space Administration (76%).
-Noel Brinkerhoff
To Learn More:
2015 Global Satisfaction Index Scores (Unlocking Federal Talent)
Homeland Security Ranks as Worst Federal Agency for Employees (by Stephen Dinan, Washington Times)
The Five Agencies Where Morale is dropping the Most (by Eric Katz, Government Executive)
Chaos and Coup at Chemical Safety Board (by Noel Brinkerhoff, AllGov)