Lawsuit Challenges Railroads' Right to Sell Pipeline Rights to Land Owned by Others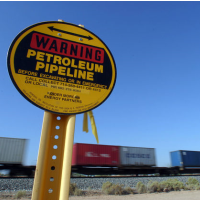 (photo: Tom Story, Bloomberg)
The right of railroads to make money off lands adjoining rail lines has been challenged in federal court, threatening a legal status that goes back a century and a half.
Plaintiffs Ernest and Hazel Terry sued Union Pacific in a New Mexico federal court claiming the railroad had no legal authority to sell land use rights to a petroleum pipeline company, Kinder Morgan, which also is named in the lawsuit.
Union Pacific Railroad has sold rights to 1,871 miles of oil pipelines along rail lines in six states—California, Arizona, Nevada, New Mexico, Texas and Oregon—according to the complaint. But the Terrys claim Union Pacific should never have been allowed to sell the rights.
"The lawsuit traces the fight back to the 1850s, when Congress gave enormous tracts of land to rail companies to encourage them to build transcontinental railroads," Victoria Prieskop wrote at Courthouse News Service. "The plaintiffs claim these grants were 'mere easements' that 'created no right of possession in the subsurface. '" In other words, the railroads have the right to use the land for trains, but not for other purposes, according to the Terrys.
The plaintiffs want the court to establish that the easements allow railroads to use land under the tracks only for purposes directly related to the railroad. They also want back rent, a share of the profits Union Pacific made from the pipeline and punitive damages. The suit also seeks class-action status for all other similarly affected New Mexico property owners.
The pipeline was formerly owned by the Southern Pacific Railroad. The railroad divested itself of the pipeline in the 1980s, and Southern Pacific was absorbed by Union Pacific in 1996.
-Noel Brinkerhoff
To Learn More:
Giant Claim Against Railroad & Pipeline (by Victoria Prieskop, Courthouse News Service)
New Mexico Landowners Sue Union Pacific Over Pipeline (by Russell Hubbard, Omaha World-Herald)