Kansas Passes Restrictive Welfare Law Seen as Mean-Spirited, Punitive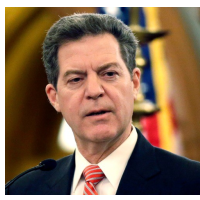 Governor Sam Brownback (photo: Orlin Wagner, AP)
Kansas has gone ahead with its new welfare reform law that puts petty restrictions on recipients' ability to get their assistance and how they can spend it.
The many provisions of HB 2258 (pdf) include a long list of ways welfare recipients cannot spend their Temporary Assistance for Needy Families (TANF). These include such questionable provisions as telling benefit recipients in land-locked Kansas that they can't take cruises. They're also forbidden from spending TANF money at movie theaters, swimming pools and massage parlors. That there's no evidence that any significant number of benefit recipients spend money this way doesn't appear to matter to Kansas politicians.
Another provision limits the amount of TANF money a person can withdraw from ATMs to $25 a day, making it difficult for those receiving benefits to get enough money together to pay rent. In addition, there's a $1 per transaction fee, which will add up if recipients must make multiple withdrawals.
Those caught committing benefits fraud—and anyone living with them—will be subject to a lifetime ban from receiving public assistance, under another part of the bill.
Republican Governor Sam Brownback has stood by the bill, while also admitting that this last provision could create unintended problems, requiring changes in the future. Brownback claims the restrictions will promote self-reliance and lift people out of poverty.
Shannon Cotsoradis, president of the advocacy group Kansas Action for Children, said the bill would only make life more difficult for the needy.
"By signing this bill into law, Gov. Brownback has added to the burden that the poorest Kansans already carry. … It's always been hard to be poor in Kansas. Now, it's going to be a lot harder," Cotsoradis said in an email to the Kansas City Star.
-Noel Brinkerhoff
To Learn More:
Brownback Signs Welfare Restrictions Bill that Drew National Criticism (by Bryan Lowrythe, Kansas City Star)
New Kansas Rules Would Limit Spending of Welfare Benefits (by John Hanna, Associated Press)
With New Law, Life Just Got 'A Lot Harder' for Poor in Kansas (by Nadia Prupis, Common Dreams)
The Double-Standard of Making the Poor Prove They're Worthy of Government Benefits (by Emily Badger, Washington Post)
Kansas Bill would Restrict ATM Withdrawals for Welfare Recipients to $25 a Day (by Noel Brinkerhoff, AllGov)