Justice Dept. to Tell Thousands of Immigrants they will have to Wait for Hearings until November 2019
Sunday, February 01, 2015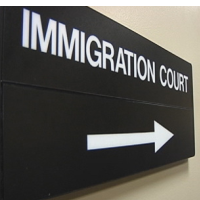 The surge in minors and families emigrating north from Mexico had a significant effect on immigrants already in the United States—it pushed some of them to the back of the line to go before a judge.
Earlier this month, many already waiting to see a judge were told they'd wait a bit longer—until November 29, 2019, according to Devlin Barrett of The Wall Street Journal. Those put on hold are primarily people with nonpriority cases; they're not incarcerated and are living freely here, nor do they have an immediate issue that must be decided by a judge.
The move came because the Obama administration last summer gave priority to the unaccompanied minors and families who recently came to the United States.
The number of immigrants waiting to see a judge is staggering; about 430,000 are currently backed up. In California alone, there are more than 85,000 people, the population of a medium-sized city, whose cases are pending. Texas is next with more than 74,000 people waiting. All those people are waiting for a spot on the calendars of only 230 immigration judges. The average wait is 600 days.
There is some hope for those whose court dates were pushed back to 2019 though. Sources in the immigration court system say the backlog could clear sooner after judges clear out the priority cases.
-Steve Straehley
To Learn More:
U.S. Delays Thousands of Immigration Hearings by Nearly 5 Years (by Devlin Barrett, Wall Street Journal)
Immigration Court Backlog Tool (Transactional Records Clearinghouse, Syracuse University)
Supreme Court Decision on "Aged-Out" Immigrants Disrupts Normal Ideological Blocs (by Noel Brinkerhoff, AllGov)