Justice Dept. to Dispatch Fewer Election Observers Due to Supreme Court Gutting of Voting Rights Act
Thursday, October 20, 2016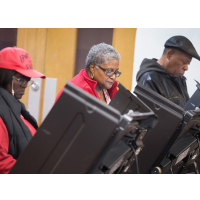 Voters on Election Day (photo: Scott Olson, Getty)
By Eric Tucker, Associated Press
WASHINGTON (AP) — Justice Department officials are warning that they'll be dispatching fewer trained election observers as a result of a Supreme Court opinion that gutted a key provision of the Voting Rights Act.
The reduction is likely to diminish the department's ability to detect voter intimidation and other potential problems at the polls. It comes as more than a dozen states have adopted new voting and registration rules, and as Republican candidate Donald Trump warns without evidence that the Nov. 8 election will be rigged and exhorts his followers to be vigilant against unspecified fraud.
"It's cause for concern," said Dale Ho, director of the ACLU's Voting Rights Project. "It's hard to know ahead of time how significant a problem it's going to be."
Justice Department officials said they still will dispatch hundreds of staffers to the polls and expect to have them in at least as many states as during the 2012 election, when they sent more than 780 observers and department personnel to 23 states.
"We have been doing everything we can through our monitoring program to be able to be as effective as we can be" in ensuring fair elections, said Vanita Gupta, head of the Justice Department's Civil Rights Division. She said voters won't detect any difference in the federal presence this year from the 2012 election.
But, Gupta added, there's no way to "sugar coat" the impact of the court's 2013 Shelby County v. Holder opinion, which invalidated a cornerstone of the 1965 voting law.
In a video released Wednesday, Attorney General Loretta Lynch said that though the court's decision had reined in the Justice Department's power, the government would work to "ensure that every voter can cast his or her ballot free of unlawful intimidation, discrimination, or obstruction."
The exact number of personnel will not be revealed until closer to Election Day.
Most of the staffers will be so-called election monitors, who have less authority than federally trained election observers and rely on the cooperation of local officials to do their jobs. Federal observers enjoy unfettered access inside polling places on Election Day and cannot be removed. Justice Department officials say they've been working with local election officials to secure cooperation for their monitors.
The federal observer program has provided an important safeguard during previous elections, especially in places that tried to suppress the votes of blacks, Latinos and other minorities, said Kristen Clarke, president of the Lawyers' Committee for Civil Rights Under Law.
In past elections, for example, observers were sent to Greensboro, Alabama, after white election officials tried to prevent black voters from entering polling places and to Pike County, Georgia, after an after-hours voter registration session was open to whites only, the Justice Department says.
Observers, and monitors too, have long been relied upon to defuse tensions, deter intimidation and encourage faith in the fairness of the electoral process.
"They have the imprimatur of the federal government behind them that is giving them the rights and responsibilities to be in polling places," said Nicole Austin-Hillery, director and counsel of the Washington, D.C., office of the Brennan Center for Justice.
This year, as in past elections, the hundreds of monitors on the ground will responsible for making sure voters aren't treated differently because of race or gender, that disabled voters are being accommodated and that voters who need them have bilingual election materials, Lynch said in her video message.
Still, this presidential election will be the first since the landmark Shelby County opinion. That ruling threw out a requirement that jurisdictions with a history of voting discrimination, mostly in Southern states, seek approval from the federal government before changing the way they hold elections.
The opinion opened the door to state law changes decried by voting rights advocates, including stringent new voter ID requirements. Beyond that, it nullified a formula the department had long relied on to allocate observers to jurisdictions nationwide.
The department now says it will send observers only to the handful of jurisdictions that are subject to a federal court order authorizing their presence. Those include Alameda County in California; St. Landry Parish in Louisiana; Orange County in New York; and some communities in Alaska. In 2012, by contrast, the department said it sent observers to monitor polls in 17 jurisdictions in about a dozen states.
Benard Simelton, president of the Alabama State Conference of the NAACP, said he expected his group to try to compensate for any decline in observers by having its own monitors outside polling places.
"If we see that they have a distressed look on their face, we will go up to them and specifically ask did they have problems voting," he said. "Hopefully through that process, we will be able to take the information and channel it to the different organizations."
Associated Press writer Christina A. Cassidy in Atlanta contributed to this report.
To Learn More:
Hacking Threats, Voting Restrictions, and Trump's Call for Poll Monitors Generate Election Day Concerns (by Christina A. Cassidy, Associated Press)
Supreme Court Voting Rights Decision Simplified—A Republican Dream Come True (by David Wallechinsky, AllGov)
Texas Attorney General Threatens to Arrest Election Observers (by Noel Brinkerhoff, AllGov)
International Observers to Monitor U.S. Election for Voter Suppression (by Noel Brinkerhoff and David Wallechinsky, AllGov)