Justice Dept. Adds Money Laundering to Drug-Related Charges against FedEx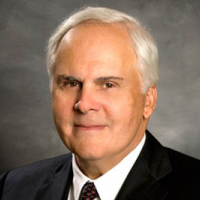 Fred Smith, founder, president and CEO of FedEx
Federal prosecutors have stepped up their case against delivery service giant FedEx, claiming it not only has helped transport illegal drug shipments, but also participated in money laundering.
The drug case filed against the company last month focuses on unlawful pharmaceutical deals completed through FedEx's vast shipping empire, which handles about 10 million packages a day throughout the world. The U.S. Department of Justice contends that company officials were aware of illegal shipments from online pharmacies, but accepted them anyway, which if proven would make FedEx criminally liable.
But now prosecutors have added money-laundering charges and the company could face a fine of $1.6 billion if found guilty on all counts, according to the Associated Press. The money-laundering allegation comes from the money paid by pharmacies to FedEx for shipping. No company executives have been personally charged with wrongdoing.
A FedEx executive said the company intends to fight the accusations in court. "We will plead not guilty," Patrick Fitzgerald, a company senior vice president, said in a statement. "We will continue to defend against this attack on the integrity of FedEx. We continue to ask for a list of all Internet pharmacies engaging in illegal activity so we can turn off shipping for those companies immediately. We have asked for a list, and they have sent us indictments."
The original indictment charged that FedEx knew they were dealing with pharmacies that shipped illicit prescriptions because the company instituted special policies to deal with such shippers to account for invoice collection problems and safety issues for delivery drivers.
In adding the money-laundering allegation, the federal government claims FedEx's handling of illegal prescriptions led to the deaths of several addicts after they received their packages. "FedEx delivered controlled substances and prescription drugs from online pharmacies to individuals who subsequently died or accidentally caused the death of others," the indictment states.
The case is similar to one the Obama administration pursued against FedEx competitor UPS, which was accused of helping illegal pharmacies distribute goods. UPS settled by agreeing to pay $40 million and to stop such shipments from going through its system.
-Noel Brinkerhoff
To Learn More:
United States v. FedEx Superseding Indictment (pdf)
US Charges FedEx with Money Laundering in Drug-trafficking Case (by William Cassidy, JOC.com)
FedEx Indicted for Money Laundering in Online Drug Case (by Paul Elias, Associated Press)
Federal Grand Jury Indicts FedEx for Conspiring to Deliver Illegal Drugs (No Officials Charged) (by Steve Straehley, AllGov)