Judge Rules FBI's Secret Courthouse Steps Recordings are Illegal
Thursday, August 04, 2016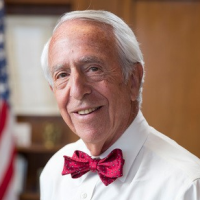 Judge Charles Breyer (photo: Law.com)
By Nicholas Iovino, Courthouse News Service
SAN FRANCISCO (CN) — Recordings from FBI bugs planted outside a county courthouse without a warrant cannot be used as evidence in a criminal bid-rigging case, a federal judge ruled (pdf).
The FBI hid four microphones outside the San Mateo County Courthouse in Redwood City in 2009 and 2010 to catch the conversations of five men suspected of rigging auctions for foreclosed properties.
The microphones — placed in a sprinkler box, a planter box, an unmarked police car and in a backpack dropped near a mailbox — recorded 214 hours of audio in nine months.
U.S. District Judge Charles Breyer ruled Monday that federal authorities "utterly failed to justify the warrantless electronic surveillance program that recorded private conversations spoken in hushed tones by judges, attorneys, and court staff entering and exiting the courthouse."
Evidence from the secret recordings was used to indict five men — Joseph J. Giraudo, Raymond Grinsell, Kevin Cullinane, James Apperndrot and Abraham Farag — who were charged with multiple counts of bid-rigging and mail fraud in 2014.
The FBI had been using informants wearing wires to record the suspects, but when the defendants began to distrust the informants, the FBI decided it "needed some new technique," Breyer wrote.
The judge cited the testimony of an FBI agent, who said he could not swear to an affidavit that the FBI had tried all traditional methods and failed to collect evidence — suggesting the FBI could not have obtained a special wiretap warrant for the program.
Even though the conversations took place in public, Breyer found the suspects, and members of the public, had a "reasonable expectation of privacy" because they spoke softly away from others.
The judge noted that the microphones also captured private conversations of a judge and county prosecutor, and two women "discussing details of their personal lives that ranged from the private to the salacious."
Breyer's ruling came nine days after another federal judge in Oakland came to the opposite conclusion about the admissibility of secret recordings from devices planted on the steps of county courthouses in Oakland and Martinez.
U.S. District Judge Phyllis Hamilton ruled (pdf) on July 22 that four men charged with rigging auctions in Alameda and Contra Costa counties did not have a reasonable expectation of privacy when they discussed their conspiracy in public.
Hamilton found the defendants in that case spoke of their scheme at a "normal conversational level" and that one defendant bragged about auction rigging in the local press, contradicting claims that he intended to keep the content of his conversations private.
After weighing whether a person has an objectively reasonable expectation of privacy, Breyer reached a different conclusion.
The fact that the defendants spoke in hushed tones, stopped talking when others approached and restricted their conversations to other alleged co-conspirators indicated that their expectation of privacy was reasonable, Breyer ruled.
The government could not produce an expert to testify that any bystanders seen in surveillance video could have overheard the defendants' conversations, the judge added.
"With continuing advances in technology, private conservations may become anachronistic rituals reducing intimate encounters to silent exchanges of notes," Breyer concluded. "But that day has not arrived. Until it does, our Fourth Amendment protections should be defined by traditional circumstances."
Breyer granted the defendants' motion to suppress the warrantless recordings.
To Learn More:
USA v. Joseph J. Giraudo, et al. (U.S. District Court for Northern District of California) (pdf)
FBI's Secret Recording of Conversations on Courthouse Steps Not Illegal, Rules Federal Judge (by Matthew Renda, Courthouse News Service)
FBI Bugged San Mateo County Courthouse Steps to Catch Foreclosure Bid-Riggers (by Ken Broder, AllGov California)