Judge Refuses to Release Grand Jury Transcripts in Police Killing of Eric Garner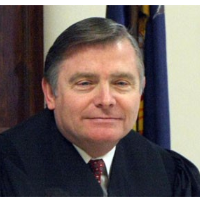 Judge William Garnett (photo: Jan Somma-Hammel, The Advance via AP)
A New York State judge has refused to release the transcripts of the grand jury that investigated the police killing of Eric Garner.
The Legal Aid Society, the New York Civil Liberties Union, the National Association for the Advancement of Colored People and The New York Post, among others, petitioned the court to seek copies of the deliberations to determine how the grand jury concluded not to indict New York Police Department officer Daniel Pantaleo after putting Garner in a fatal chokehold.
After hearing the arguments for releasing the transcripts, Judge William Garnett said the Legal Aid Society and others did not provide sufficient reason under the law to release the transcripts, which ordinarily are kept secret. "In summary, the movants [petitioners] in this case merely ask for the disclosure for distribution to the public," Garnett wrote. "This request is not a legally cognizable reason for disclosure."
As for the Post wanting to see the transcripts, Garnett suggested "the newspaper would merely publish all, or part of, the minutes, and might use them as grist for its editorial mill." He concluded, "Journalistic curiosity is simply not a legally cognizable need under the law."
The Legal Aid Society criticized Garnett's ruling. "Eric Garner was a son, father, husband and grandfather. His family and the Staten Island community deserve to know why, despite a clear video of Officer Pantaleo putting Mr. Garner in a chokehold and a medical examiner's report ruling his death a homicide by chokehold, there was no indictment on any charges."
An attorney representing Garner's family also blasted Garnett's ruling. "I think it's unfortunate given the great deal of public interest in this case that he's refused to provide the public access to any of the materials in the grand jury," Jonathan Moore told The New York Times. "Secret grand juries are an anachronism. The judge has essentially sanctioned the use of a secret trial for a very public matter. If this was a normal grand jury process, they would have had an indictment in five minutes."
Prosecutor Daniel Donovan, who's likely to seek the Republican nomination to fill the congressional seat vacated by Michael Grimm, pushed hard to keep the transcripts secret.
-Noel Brinkerhoff, Steve Straehley
To Learn More:
Grand Jury Transcripts in NYC Police Chokehold Case Kept Sealed (by Nick Divito, Courthouse News Service)
In Eric Garner Case, Judge Rules Against Releasing Grand Jury Evidence (by Al Baker, New York Times)
Decision and Order (pdf)
New York Police Work Slowdown Backfires, Revealing Time Wasted on Petty Violations (by Steve Straehley, AllGov)