Judge Behind Louisiana "Debtor's Prison" Agrees to 75-Day Break from Harsh Rulings against Poor Defendants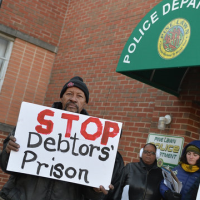 (photo: Michael B. Thomas via Getty Images)
NEW ORLEANS (AP) — A Louisiana judge accused by a rights group of running a modern-day debtors prison agreed Monday to temporarily stop jailing defendants for nonpayment of fees and assessing certain costs on defendants, according to a court filing (pdf).
The court filing outlines an agreement between Judge Robert Black in Bogalusa and the Southern Poverty Law Center.
Last week, the organization filed a lawsuit accusing Black of sending poor defendants to jail when they can't pay fines and fees and charging them a questionable "extension fee" to avoid jail time. It's the latest of a series of legal challenges across the country to a system that opponents say criminalizes being poor.
For the next 75 days, the judge has agreed to stop charging the $50 extension fee the group had objected to as well as some other fees and to stop jailing people who can't pay fines and fees. The 75-day period kicks in after the court accepts the agreement.
"This is exactly what we wanted," said Sam Brooke, the organization's deputy legal director. Both sides will use the 75-day period to explore a more long-term solution. If none is reached, the rights group would still have the option of pursuing the lawsuit.
The lawsuit contends that the judge routinely jails people who can't pay fines for minor traffic or misdemeanor offenses without checking to see why they can't pay. The group contends the Bogalusa court system uses court costs and fees to cover budget shortfalls from 20 to 30 percent. The reliance on costs and fees to make up budget shortfalls can create the appearance that the judge is not impartial, the organization said.
"Who would feel that they can get a fair shake?" Brooke said. "When people lose faith in the court, then it's all over."
In a statement, the judge said imposing jail time for misdemeanor crimes is not something he takes lightly and said he generally uses fines or community service. When fines are imposed, defendants are given at least 30 days to pay, he said. Black said the $50 extension fee was used to defray court costs by having to have additional proceedings and that he thought other courts in Louisiana had similar practices.
"The Court appreciates the concerns of the Southern Poverty Law Center and looks forward to discussions with the plaintiffs' attorneys," the judge wrote. "In the meantime, members of the public are invited to attend our misdemeanor court proceedings every Monday from 9:30 am until late afternoon and witness for themselves that each case is judged on an individual basis."
Civil rights lawyers in September filed a similar lawsuit in New Orleans alleging that hundreds of people had been locked up because they lacked the money to pay court fees and thousands more are threatened with arrest each year for nonpayment of court debts. Similar cases have been brought in Washington, Mississippi and Missouri.
To Learn More:
Latasha Cook, et al, v Bogalusa City Court and Robert J. Black (U.S. District Court for Eastern District of Louisiana)
New Orleans Criminal Court Systems Accused of Milking the Poor with Exorbitant Fees (by Noel Brinkerhoff and Steve Straehley, AllGov)
Will Billing Rape Victims Thousands of Dollars for Medical Exams in Louisiana Finally Come to an End? (by Noel Brinkerhoff and Steve Straehley, AllGov)