Is Southern Illinois a Haven for Sexual Assaulters?
Tuesday, February 24, 2015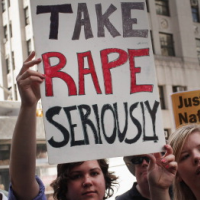 (photo: Getty Images)
A large swath of Southern Illinois has become a no-prosecution zone of sorts for rapists and others accused of sexual assault, a newspaper investigation has revealed.
The Belleville News-Democrat examined more than a thousand police reports from 32 counties and 15,000 pages of court records and found district attorneys routinely did not go after individuals accused of sexual crimes.
From 2005 to 2013, about 70% of the cases reviewed did not result in prosecution—"even though victims were able to identify their attackers 95 percent of the time," Beth Hundsdorfer and George Pawlaczyk wrote at the Belleville News-Democrat.
The 70% rate was based on 6,744 felony sex crimes reported to police across Southern Illinois, where 4,721 cases never were tried by a court.
The investigation also found that aggravated sexual abuse, which frequently involves children, represented 25% of the felony sex crimes reported to police. But many of these cases were not included in federal and state crime statistics because the Federal Bureau of Investigation's definition of a reportable sex crime focuses on sexual assault, or rape.
Those accused of a felony sex crime risked only a 10% chance of going to prison, the newspaper determined.
It also was concluded that "some cities with the largest police departments and most investigators had the highest number of felony sex crimes reported but some of the lowest prosecution rates: East St. Louis, 7 percent, Carbondale, 8 percent and Belleville, 18 percent," according to Hundsdorfer and Pawlaczyk.
The newspaper's investigation is a rare look into an area that is largely ignored, according to Kim Lonsway, research director for End Violence Against Women International. "I have never seen such a comprehensive effort to track down what happened to every single report of a sex crime — across so many communities — because this requires looking into all of the dark corners that exist within our criminal justice system," she told the Belleville News-Democrat. "As the Illinois data reveal, a stunningly small percentage of sexual assaults that are reported to police will eventually result in prosecution and conviction, and without meaningful data to portray that grim reality, there is no way for the public to understand the scope of the problem, and no way to hold police departments and prosecutors' offices accountable."
-Noel Brinkerhoff
To Learn More:
Absent Justice (by Beth Hundsdorfer and George Pawlaczyk, Belleville News-Democrat)