Is Releasing 2,000 Animals from a Mink Farm an Act of Terrorism? Federal Law Says it is
Sunday, February 22, 2015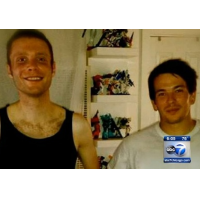 Kevin Johnson and Tyler Lang (photo: WLS-TV)
A law enacted during the George W. Bush administration that calls protests against animal treatment "terrorism" is being used to prosecute two men who released about 2,000 minks from an Illinois breeding operation.
Kevin Johnson, 27, and Tyler Lang, 25, face up to 10 years in prison for charges brought under the 2006 Animal Enterprise Terrorism Act (AETA), which prohibits engaging in conduct "for the purpose of damaging or interfering with the operations of an animal enterprise." It covers any act that either "damages or causes the loss of any real or personal property" or "places a person in reasonable fear" of injury.
Johnson and Lang pleaded guilty to state charges for the 2013 acts. Lang got probation and Johnson is serving a 30-month prison sentence. Now they're also facing a federal indictment and possible 10-year prison terms under AETA. Rachel Meeropol, attorney for the Center for Constitutional Rights (CCR), argued Thursday in a Chicago court that AETA is overly broad and unconstitutional. "Applied evenhandedly, the AETA would federalize every act of theft, libel, or vandalism against every food or retail store in the country, so long as there is an interstate component," the motion (pdf) to dismiss the federal charges reads.
"The Animal Enterprise Terrorism Act is a poorly disguised attempt to chill legitimate advocacy by an unpopular group of activists," Meeropol said. "Liberating animals is not terrorism."
According to CCR, AETA targets animal rights activists, "but includes language so broad and vague it could be used to prosecute labor activists who organize a successful boycott of Walmart, or union members who picket a university cafeteria."
-Steve Straehley
To Learn More:
Accused of 'Terrorism,' Animal Rights Activists Head to Federal Court (by Deirdre Fulton, Common Dreams)
United States vs. Johnson (Center for Constitutional Rights)
Analysis of the Animal Enterprise Terrorism Act (by Will Potter, Green Is the New Red)
Four Charged with Violating Utah's "Ag-Gag" Law (by Ken Broder, AllGov California)
Neiman-Marcus Admits to Selling Fake Fake Fur (a.k.a. Real Fur) (by Noel Brinkerhoff and David Wallechinsky, AllGov)