Interim Chemical Safety Board Head Quickly Issues No-Bid Contracts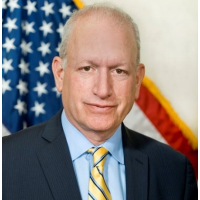 Rick Engler (photo: Chemical Safety Board)
The man accused of taking over the Chemical Safety and Hazard Investigation Board (CSB) via a "coup" is now issuing no-bid contracts (pdf) for legal and consulting work, allegedly diverting agency funds earmarked for accident investigations.
Richard Engler, the CSB board member who last month declared himself the "interim executive and administrative authority" at the agency, has authorized nearly $100,000 in sole-source contracts for outside lawyers and consultants, according to documents disclosed by Public Employees for Environmental Responsibility (PEER).
He awarded the contracts without public notice or discussion and kept the contract amounts below a specific dollar ceiling which, if exceeded, would have triggered a series of federal procurement requirements.
"Federal contracts under $50,000 avoid a variety of procurement rules, including stronger competitive bidding and affirmative action requirements," the Corporate Crime Reporter noted. "They also fall just shy of the $50,000 threshold requiring a full Board vote under an order passed this May (with Engler among the 'aye' votes) in the name of improving governance and 'transparency.'"
The deals went to RGS, an organizational consultant in Arlington, Virginia ($49,998), and the Washington, DC firm of Shaw, Bransford and Roth ($45,000).
PEER Executive Director Jeff Ruch accused Engler of "spending taxpayer money like a drunken sailor. He is assembling a mercenary force paid to do his only bidding," he told the Reporter.
CSB, a small agency facing a budget cut later this year, has limited discretionary funds to support its mission—preventing chemical accidents and investigating their causes. A large amount of those funds have been diverted to pay for the legal and consulting contracts awarded by Engler, claimed Ruch.
"These contracts have little to do with chemical safety – the mission of this agency," Ruch said. "These ham-handed maneuvers have set the Chemical Safety Board on a course to tear itself apart."
Engler assumed control of the CSB after its embattled head, Rafael Moure-Eraso, resigned in March. During the 10 months prior to Engler's coup, the agency under Moure-Eraso had issued nine investigative reports, but there hasn't been a single one since.
When Engler took over CSB, there were only three seats filled on the five-member board. He reportedly used the support of outgoing board member Mark Griffon to designate himself "Board Member Delegated Interim Executive and Administrative Authority." The board's third member, Manuel "Manny" Ehrlich, objected to Engler's power grab.
Engler then ordered the suspension of CSB's entire executive staff, including Managing Director Daniel Horowitz and General Counsel Richard Loeb, putting them on administrative leave. The staffers were marched out of the building under armed guard and barred from returning or talking to other CSB staff.
-Noel Brinkerhoff, Danny Biederman
Update: The Chemical Safety and Hazard Investigation Board has issued the following statement:
" The Chemical Safety Board complies with all applicable federal contracting laws, as well as CSB procedural rules and governance policies. In response to CSB Member Ehrlich's request of two days ago, our General Counsel's office is providing additional information. CSB will not comment on internal personnel matters. "
To Learn More:
PEER Says New Head of Chemical Safety Board Spending Taxpayer Money Like a Drunken Sailor (Corporate Crime Reporter)
List of Contracts (Public Employees for Environmental Responsibility) (pdf)
Chaos and Coup at Chemical Safety Board (by Noel Brinkerhoff, AllGov)
Chemical Safety Chairman Resigns: Who Is Rafael Moure-Eraso? (by Noel Brinkerhoff and Danny Biederman, AllGov)