In Senate Testimony, Military Leaders Reject Calls to Remove Sexual Assault Cases from Chain of Command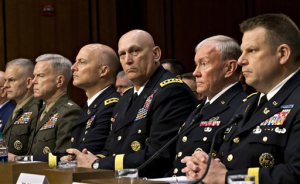 U.S. military leaders testify at Senate hearing. (photo: J. Scott Applewhite, AP)
In a rare collective appearance before Congress, the U.S. military's top commanders told lawmakers this week that they do not believe cases of sexual assault should be decided outside the chain of command.
The issue is central to the current debate about how the military can stem the high number of rapes and sex-related crimes occurring within the armed forces, as well as the seemingly low number of prosecutions against those responsible.
Senator Kirsten E. Gillibrand (D-New York) has introduced legislation that would give military prosecutors, rather than commanders, the power to decide which sexual assault cases to try.
When the proposed change came up during the hearing, all of the generals and admirals present rejected the idea.
"Without equivocation, I believe maintaining the central role of the commander in our military justice system is absolutely critical," General Ray Odierno, the Army's chief of staff, said, according to The Washington Post. "Removing commanders, making commanders less responsible, less accountable, will not work. It will hamper the delivery of justice to the people we most want to help."
Senator Gillibrand referenced an exchange between a military assault victim and a commander, who told the woman that he believed her assailant had not "acted like a gentleman" but had not committed a crime. To that, the senator sarcastically remarked, "Not every commander can distinguish between a slap on the ass and a rape."
Senator Roy Blunt (R-Missouri), a member of the Senate Armed Services Committee, characterized the answers he heard from the Joint Chiefs of Staff as being "stunningly bad."
The hearing followed numerous media stories about sexual assault in the military and a Pentagon report that estimated about 26,000 people in the armed forces were sexually assaulted last year, up from 19,000 in 2010.
-Noel Brinkerhoff
To Learn More:
Joint Chiefs' Answers on Sex Crimes Dismay Senators (by Jennnifer Steinhauer, New York Times)
Lawmakers Demand Crackdown on Sex Assault in Military (by Craig Whitlock, Washington Post)
Senate Stacks Deck Against Reformers in Military Sexual Assaults Crisis (by Stacy Kaper, National Journal)
85,000 Vets Treated for Sexual Abuse Injuries and Trauma in 2012 (by Danny Biederman and Noel Brinkerhoff, AllGov)
Chief of Air Force Sexual Assault Prevention Unit Charged with Sexual Assault (by Noel Brinkerhoff and Danny Biederman, AllGov)
Air Force General who Overturned Sexual Assault Conviction Says Accused was Too Good a Husband and Father to be Guilty (by Noel Brinkerhoff and David Wallechinsky, AllGov)