In Missouri, Murderers are 7 Times more likely to be Executed if the Victim is White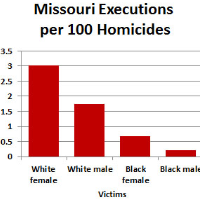 (graphic: Steve Straehley, AllGov)
#WhiteLivesMatter
That's certainly true in Missouri, where a convicted murderer is seven times more likely to be executed if the victim was white, according to a new study.
That study, #BlackLivesDon'tMatter: race-of-victim effects in U.S. executions, 1976–2013 (pdf), showed that the execution process in Missouri is so randomly applied that it might be unconstitutional.
Lead researcher Frank Baumgartner at the University of North Carolina made several startling discoveries:
--Homicides involving white victims are seven times more likely to result in an execution than that of a black victim.
--Homicides involving white females are 14 times more likely to result in executions than those involving black male victims.
--Although fewer than 40% of murder victims in Missouri were white, 81% of executed murderers killed a white victim.
--A person convicted of murder in suburban St. Louis County, which contains Ferguson, is three times more likely to be executed than in most other counties, and 13 times more likely than if the person is convicted in the neighboring City of St. Louis.
"I was astounded when I read all these numbers," Baumgartner told the St. Louis Post-Dispatch. "This is so out of line with what you might think. Even if you were expecting some degree of disparity, you don't expect this level of it."
Of the 80 prisoners executed by the state of Missouri from 1976 to 2014, only one was a white man who killed a black man. That was a murder committed by a prisoner who was a member of a white supremacist gang who stabbed to death a black inmate.
-Steve Straehley
To Learn More:
The Impact of Race, Gender, and Geography on Missouri Executions (by Frank Baumgartner, University of North Carolina at Chapel Hill) (pdf)
Study Points to Race and Gender Disparity in Missouri Executions (by Jeremy Kohler, St. Louis Post-Dispatch)
#BlackLivesDon'tMatter: race-of-victim effects in U.S. executions, 1976–2013 (by Frank Baumgartner, University of North Carolina at Chapel Hill) (pdf)