In Louisiana, Murderers are Far more Likely to be Executed if the Victim is a White Woman rather than a Black Man
Friday, September 25, 2015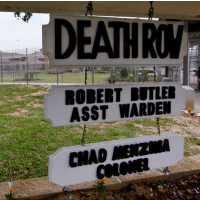 Death Row building at the Louisiana State Penitentiary (AP photo)
Killings of white women in Louisiana, which represent only a small portion of all homicides in the state, have resulted in a much higher percentage of executions of the killers than cases in which the victims were black men, who have made up the vast majority of all those murdered.
A new study set to be published in the Loyola University of New Orleans Journal of Public Interest Law found black males have constituted 61% of all homicide victims since 1976. But these cases have produced only 8% of all executions over the past four decades. Meanwhile, the cases of white females, who represented just 7% of murder victims, generated 47% of those put to death.
Killers of black men "have been executed in only 3 cases out of 12,949 homicides since Gregg v Georgia reinstated the death penalty in 1976," study authors Frank R. Baumgartner and Tim Lyman wrote, representing "1/48th the execution rate for the killers of white women."
Baumgartner and Lyman added: "Being a victim of homicide in Louisiana is heavily dependent on race, gender, and age. Young black males have extremely high rates of homicide victimization compared to other categories. However, the death penalty is used only very rarely in those cases where the victim is a black male."
They also said they could not find a single case "in the entire history of Louisiana where a white person was executed for killing a black male."
The study authors based their findings on an analysis of Louisiana's history of homicides and executions, along with statistics from the FBI and the Espy File of national executions.
-Noel Brinkerhoff
To Learn More:
Race-Of-Victim Discrepancies in Homicides and Executions, Louisiana 1976-2015 (by Frank R. Baumgartner and Tim Lyman, Loyola University of New Orleans Journal of Public Interest Law) (pdf)