In Another Loss for Local Control, Alaska Supreme Court Says Voters Can't Ban Mining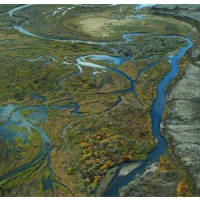 Bristol Bay (photo: EPA)
Supporters of an anti-mining initiative in Alaska have lost their battle with the state Supreme Court, which threw out the local effort to protect salmon populations.
The Save Our Salmon initiative, approved by voters in 2011, would have halted a mining project in Lake and Peninsula Borough by giving local officials the power to veto projects approved by the state Department of Natural Resources. But the Supreme Court upheld a lower court ruling that said the initiative violated state law.
"This stands in stark contrast to other resource development permitting processes, which compare the adverse impacts of a project with potential mitigation measures," the court said in its ruling (pdf). "As a result, the borough's permitting standard is now more stringent than the state's."
The initiative's sponsors, George Jacko and Jackie Hobson Sr., sought to stop the Pebble mining project, a large-scale copper and gold extraction located 200 miles southwest of Anchorage which has been approved by the state. The mining would take place in the Bristol Bay region, which supports one of the world's top sockeye salmon fisheries.
The initiative required the borough to deny development permits like those associated with Pebble without consideration of any changes that could be made to avoid hurting the environment, the court said.
Jacko and Hobson might still get their way. The federal Environmental Protection Agency is considering halting the project because of clean water issues.
-Noel Brinkerhoff
To Learn More:
Anti-Pebble Mine Ballot Initiative Violated State Law, Alaska Supreme Court Says (by Alex DeMarban, Alaska Dispatch News)
Court Says AK Town Can't Ban Big Mining (by Chris Randolph, Courthouse News Service)
George Jacko and Jackie Hobson v. State of Alaska (Alaska Supreme Court) (pdf)
Republican State Governments Increasingly Overruling Laws Passed by City and County Governments (by Steve Straehley and Danny Biederman, AllGov)