If You Bought a Made-in-USA TV at Walmart, Target or Sam's Club, It may have been Made in…China
Friday, November 14, 2014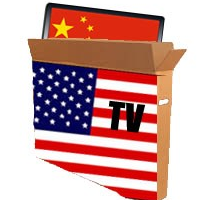 (graphic: Steve Straehley, AllGov)
Americans who want to buy a television actually made in the United States will need to do their homework if they shop in Walmart and some other major retailers. That's because one U.S.-based company that makes TVs that carry a Made in the USA label has been accused of being little more than a Chinese subsidiary, parts and all.
Element Electronics, in fact, has marketed itself as an American-owned company that sells the only American-assembled television in the country, ThinkProgress reports. That pitch has won it relationships with Walmart, Target, Sam's Club and other businesses.
But what Element makes is anything but American, according to a complaint (pdf) filed with the Federal Trade Commission (FTC). The Alliance for American Manufacturing (AAM) says in its complaint that Element has outright lied about its TVs being made in this country.
For starters, the sets are made in China. They're then shipped to Element's facility in South Carolina, where workers remove a couple screws, pop in a Chinese-made motherboard then ship the televisions off to stores. Even much of Element's factory equipment was made in China.
Products made in operations such as Element's "screwdriver" installation have usually been ruled by the FTC to not warrant the Made in the USA label.
AAM has asked the FTC to prohibit Element from marketing its televisions as being made in the United States.
-Noel Brinkerhoff
To Learn More:
Petition to Enjoin Element Electronics Corporation's False, Deceptive, and Misleading Advertising (Federal Trade Commission) (pdf)
Walmart's 'Made In USA' Televisions Are Allegedly Made In China (by Alan Pyke, ThinkProgress)
The Hard Business of Restarting U.S. Factories (by Timothy Aeppel, Wall Street Journal)